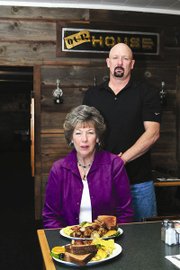 RICKREALL -- Customers of the newly reopened Farrol's Restaurant and Lounge will find similarities to the former establishment of the same name.
However, the new owners and operators hope patrons of the new Farrol's will find something new to love as well.
Owners Faye Thomas, her son and restaurant manager Larry Thomas, Lisa Lawson-Miller and Rick Miller, along with head cook Jim White, worked to create a combination of the best of the old restaurant and a nod to new trends in cuisine.
The original Farrol's had been abruptly shut down in 2006 and the building near the Polk County Fairgrounds in Rickreall had been vacant since. Faye Thomas said the family was looking for an investment opportunity and found Farrol's was on the market. They bought it in mid-December.
Larry Thomas said memories of family visits to the original Farrol's, then owned by Janet and LaVerne Perry, inspired the Dallas family to create the same atmosphere again.
"We loved coming here when the Perrys owned it," he said.
The group opened Farrol's with that vision on Feb. 4.
Faye Thomas said the community, both the customers and the businesses that helped them remodel, have been supportive. Larry Thomas said the only snag was the first weekend, when the restaurant drew a crowd from a flea market at the fairgrounds next door.
"We went with the soft opening, but it wasn't so soft," he said.
Thomas said he appreciates customers' patience while the restaurant's staff worked to smooth out the operation.
"It will only get better," he said.
White describes the breakfast, lunch and dinner items on the revamped menu as American ethnic, meaning he has incorporated globally inspired dishes with classic favorites. He specializes in cuisine from the American South, Latin America and Southeast Asia. Samples from all regions are on the menu.
"We want to have the things customers came here for before with an acknowledgment of the new trend in food, which is global," White said.
A few of his specialties are crispy fried ribs with an Asian sauce, chicken wings with sauces made in house, a Thai wrap with peanut sauce, pulled pork, and red beans and rice.
His biscuits and gravy will come with a choice of traditional white gravy, a Creole gravy and chocolate -- yes, chocolate -- gravy.
There are plenty of spicy dishes on the menu, a few with the word "killer" in the name. But Larry Thomas assures there are items that won't send you running for a pitcher of water. Vegetarian options are available as well.
The menu still is in flux as the operators find the mix of dishes people enjoy. White, who describes himself as "a food geek," is constantly searching for new ideas.
He said his recipes are not for those who favor subtle flavor.
"What I'm known for is big flavor," White said. "You don't have to go looking for it."
BREAKOUT BOX
Let's Eat!
What:
Farrol's Restaurant and Lounge.
Where:
670 S. Pacific Highway (99W), next to the Polk County Fairgrounds in Rickreall.
Hours:
Monday through Thursday, 7 a.m. to 9 p.m.; Friday and Saturday, 7 a.m. to 10 p.m.; Sunday, 7 a.m. to 8 p.m.
For more information:
503-623-2023.