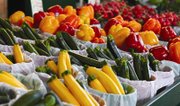 DALLAS -- Want produce and other farm-fresh products this summer? Think downtown Dallas on Thursday afternoons.
Starting on June 3, the Dallas Area Visitors Center will be hosting a new outdoor market on the Polk County Courthouse lawn Thursdays from 3 to 7 p.m.
The market, called the Polk County Bounty Market, will run through the summer months with the goal of providing an outlet for local producers.
The time, location and day were all very deliberate choices said Bonnie Dreier, the executive assistant of the visitors center.
A planning committee chose Thursdays because it would minimize competition with other area farmers markets operating on Saturdays and Wednesday, including ones in Monmouth, Independence and Salem.
"We felt that Thursday was the best pick," Dreier said.
Operating during afternoon hours is in an effort to catch people when they are leaving work. Holding it downtown would bring more attention to the region. The idea is to send more people into the businesses surrounding the market.
Polk County Bounty Market will not be replacing the Dallas Farmers Market, which operated in the parking lot of Plain and Fancy Gifts on Saturdays last year. Organizers Jan Keuscher and Judy Friesen plan to continue running their market.
The Dallas Area Chamber of Commerce sought permission of the Polk County Board of Commissioners to use the courthouse lawn. The commissioners granted use of the location at its meeting Feb. 16, but warned that too much noise during court proceedings and wear and tear on the lawn could create conflicts in the future.
Dallas City Manager Jerry Wyatt said if the courthouse lawn doesn't prove to be ideal, a possible backup plan is holding the market on a downtown street, most likely Court Street. At least a portion of the street would be closed during market hours.
Chamber Executive Director Chelsea Pope said market management and volunteers will work with Polk County Circuit Court staff to keep noise to an acceptable level.
Dreier, who will be the market manager, said she has put considerable time and research into starting the market over the last year. She has worked with other managers and will attend classes this month to learn about organizing a weekly market.
After securing a day, time and location, the center sent an announcement and invitations to possible vendors last week.
Though it still is early, Dreier hopes to see about 25 vendors wanting to participate.
"It's very exciting," she said.
The cost to vendors is $15 per week with a $25 annual membership. Applications, rules and guidelines will be posted on the visitors center Web site, www.dallasoregon.org, at the beginning of March. Vendor applications are due May 1.
For more information, or to inquire about being a vendor, call Dreier at the Dallas Area Visitors Center at 503-623-2564 or e-mail pcb@dallasoregon.org.
A Taste of Summer
What:
Polk County Bounty Market.
When:
3 to 7 p.m. every Thursday beginning June 3 and running through Aug. 26.
Where:
Polk County Courthouse lawn, 850 Main St., downtown Dallas.
Vendor cost:
$25 annual membership and $15 weekly fee.
For more information:
Bonnie Dreier, Dallas Area Visitors Association, 503-623-2564; e-mail to pcb@dallasoregon.org; www.dallasoregon.org.