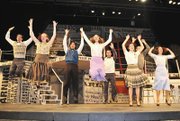 MONMOUTH -- Laughter probably wasn't the intention of the creators of the 1936 anti-drug film "Tell Your Children" -- retitled "Reefer Madness" when it hit theaters the following year.
But that's been the result since the infamous propaganda flick -- financed by either a church group or the federal government, as the story goes -- was rediscovered during the 1970s at midnight theaters and on college campuses.
"Reefer Madness" depicts the deadly, bizarre and unintentionally funny effects of the "evil weed" on wholesome high school sweethearts Mary Lane and Jimmy Harper.
The movie has attracted a cult following, and spawned a popular Broadway production in 1998, "Reefer Madness: The Musical." Western Oregon University's theater department will be performing the play for a two-week run beginning Thursday, Feb. 25.
Director and theater professor Michael Phillips said the play is different than the usual stage fare Western has performed.
"It's not squeaky clean, it's a musical for adults and not kids," Phillips said. "But it's fun, with really ridiculous songs."
Phillips had known about the original movie, but hadn't heard of the musical until his theater students lobbied for it last year as he and other faculty were scheduling the 2009-10 season.
"Reefer Madness" will feature a total of 65 cast, chorus and crew members, not to mention a music combo.
The production, set in the 1930s, features solos, big-song-and-dance numbers, hallucinatory sequences and hammy acting. Most of the props will have an exaggerated 2-D look to them.
"Musically, it's very simple," Phillips said.
The show is highly-stylized and its plot screams camp. But if one digs deep enough, they could probably scrounge up an underlying theme, Phillips said.
"I would say there's a message, but it doesn't beat you over the head," he said. "The conclusion is that fear gets exploited on any number of levels."
Christine Greenhalgh, a sophomore from Gresham, will portray Mary Lane, who falls into a down. A fan of 30s-era entertainment and style, Greenhalgh said she was excited about the costumes and the opportunity to do the jitterbug.
She's also anxious about her parents' response to the show; they'll be attending a performance early in the run.
"I've been trying to prepare them by having them watch the movie," she said with a laugh. "They'll probably be fine."
Phillips said the play satirizes marijuana use, its consequences and a number of societal institutions.
"It's an equal-opportunity offender that takes pot shots at everyone," he said. "No pun intended."
"Reefer Madness"
What:
"Reefer Madness: The Musical"
When:
Feb. 25-27 and March 3-6. All shows begin at 7:30 p.m. Midnight shows are also scheduled for Feb. 26 and March 6.
Where:
Rice Auditorium, Western Oregon University, 345 N. Monmouth Ave., Monmouth.
Admission:
Tickets are $7 for students, $10 for seniors and $12 for general admission. They can be purchased at the auditorium box office or by calling 503-838-8462.
Note:
"Reefer Madness" contains adult humor, religious parody, drug use, and suggested violence and sexual explicitness. While there's no age limit for attendance, parental discretion is advised.