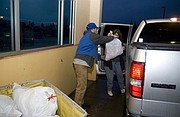 DALLAS -- If you dropped off a donation at the Dallas Goodwill store in 2009, you have plenty of company.
The Dallas Goodwill Industries store, at 315 Orchard Drive, increased its donations by 18 percent compared to 2008. Goodwill estimated 1.7 million pounds of donations were received at the site.
That is the second highest increase in all the donation sites in Goodwill's Columbia Willamette region, encompassing 14 counties in Northwest Oregon and Southwest Washington, Goodwill spokeswoman Dale Emanuel said.
Dallas Store Manager Kathleen Disney said 27,000 donations were made in Dallas, adding that most items given to the store are sold in the store.
"In a down economy, it's just amazing," she said.
Disney said she was expecting donations to be down, with people keeping items longer. Residents of Dallas and the surrounding area didn't follow that trend.
"This year, people were extraordinarily generous," Disney noted.
Only one location topped Dallas, a Gresham site that posted an increase of 35 percent. Emanuel noted Dallas' smaller population size -- about 16,000 compared to 90,000 -- and recent economic struggles made the increase that much more impressive.
"For that community to give us 18 percent more, that is staggering," Emanuel said.
She said no other site came close to Gresham or Dallas in donation increases. Overall, the region saw an average 4 percent more donations than last year.
Last week was Goodwill's busiest week for donations, as people tried to beat the end of year deadline for deducting donations off their 2009 taxes. Columbia Willamette locations expected to gather a combined 4 million pounds of donations in the last week of 2009, bringing its annual total to a record breaking 149 million pounds, Emanuel said.
Goodwill sells donated items and puts almost 93 cents of every dollar received toward job placement assistance, training and employment for people with disabilities or other barriers landing a job.
Demand for job assistance grew 11 percent for 2009 and Emanuel said the organization expects that to stay the same in 2010.
The Dallas location is a standout in showcasing the organization's job assistance programs, too. Disney said it employs almost 50 people with developmental disabilities, the most of any store in the region.
Her goal for 2010 is to spread the word in the local area about Goodwill's mission. Disney said she is grateful for local people's generosity in 2009.
Will 2010 be another record-breaking year for the store?
"We have hopes of doing so," said Disney, then adding, "but we couldn't do it without people's donations."
--
Those who have donated and need help calculating the value of their donations for tax purposes can go to www.goodwill.org and click "Deduct your donation" to find a tax valuation guide.