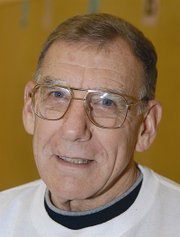 DALLAS -- Lyle Elementary School has a superhero working the lunch hour.
The red-caped man is Denny Fryrear -- or, as his shirt spells out in bold lettering, "Ketchup Man."
His sworn duty is to dispense ketchup, along with mustard and ranch sauce, to students and teach them to be courteous while he does it.
"He always makes them say 'please' and 'thank you,' which is really good," Lyle third-grade teacher Barb Buchan said.
As tray-toting students stop at the condiments cart, Fryrear, 69, won't dole out ketchup unless the students ask with a "please." He won't let them head to their classrooms to eat until they say "thank you."
Though not quite the same as leaping over tall buildings in a single bound, Fryrear said the courtesy training has been a bit of a process with the students.
"The younger ones go 'huh?' But we are working on it," Fryrear said.
Etiquette lesson notwithstanding, he may be the most popular lunchtime attraction at Lyle, with students greeting Fryrear with an often-repeated "Hi Ketchup Man!" and a few high-fives.
"He's cool and he's funny," said third-grader Zach Broyles. "He's good at his job."
Before taking on the duties of Ketchup Man, Fryrear served in the U.S. Marines, worked with senior and disability services, and was a teacher before becoming the caped condiment server.
Recently retired, Fryrear said he volunteers to help kids and to occupy his time.
"People think of retirement as a star in the sky," he said. "I don't particularly care for it."
Fryrear said he volunteered to be a "lunch buddy" for a student who attended Lyle a few years ago. Looking for another volunteer opportunity, he said he called the school at the beginning of this year and asked how he could help. Much to Fryrear's surprise, they needed someone to man the ketchup pumping station during lunch.
In early October, Fryrear joined the lunch serving crew -- though without the cape.
The idea for the costume came later when, while on a walk, Fryrear met a Lyle student. The boy, not remembering Fryrear's name, said to his father "Look, it's Ketchup Man."
After that, Fryrear had the T-shirt and cape made and has since been the ever-popular Ketchup Man.
"I like the kids and this gives me something to do," Fryrear said.