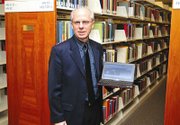 MONMOUTH -- The amount of electronic materials versus printed ones inside Hamersly Library at Western Oregon University is greatly skewed to the latter.
Of Hamersly's roughly 310,000 holdings, 74 percent are books, maps, DVDs or other items you can hold in your hand.
But for higher education research libraries, every year means reduced demand for physical resources, new ways to find information and changing job descriptions, said Allen McKiel, Hamersly's dean of services and media.
"There are interesting things happening with this information sphere that we're building," said McKiel, who came to WOU from Northeastern State University in Oklahoma in 2008.
"What we're doing five years from now will be considerably different from what we're doing now," he said.
The direction stems from a user's preference for accessing resources -- which, naturally, is now dictated by the Internet.
A report by library staff showed of the 208,000 books and journals -- both electronic and print -- used in 2007-08, electronic items were accessed 87 percent of the time. That's often by proxy -- computers outside of the library.
McKiel estimates in five years, use of print journals and books could be down to 3 percent.
"A lot of students now, if they can't find it online, then they say they can't find it," said Nikki Almak, a WOU senior and library employee. "Many of them don't realize that we have journals online and in print."
That's one reason the Hamersly Library recently canceled 300 of the last 650 journal titles it subscribes to; by contrast, they have more than 33,000 titles through online vendors.
McKiel said when people search for information, they're not reading materials cover-to-cover, "but you want a search engine that indexes every word in the book."
Going the electronic route is certainly cheaper; in 2007-08 a print journal subscription ran an average of $134, while an electronic subscription cost a mere $6.
Hamersly's physical collection of books isn't going anywhere soon. Western has millions of books available collectively at Hamersly and an interlibrary loan with other universities, and relatively few e-book titles, about 50,000.
That's because of availability and the lack of widely-used e-book readers, McKiel said. That may change with Google's digital library project, which entails Google scanning in- and out-of-copy books.
An official settlement in a class action lawsuit between the company and publishers is expected in February.
McKiel said that could "untether" us from print, and allow WOU to someday pay an annual subscription for millions of digitized books.
Hamersly recently redefined duties for its library technicians. McKiel said their jobs essentially concern showing people how to work through journal search engines and academic databases.
With the proliferation of smart phones and net books, and the possibility of WOU someday buying software applications for these devices for students, "we're going to be here to help the devices work the way patrons want them to work for information resources," McKiel said.
"Fifteen years ago we were still pretty much accountants of physical objects," McKiel said. "And now we're more systems analysts."
--
BREAKOUT BOX
Print vs. Electronic
Some noteworthy data as it relates to the use of print material versus electronic data:
* Between 1997 and 2008, the usage of electronic journals, databases and e-books has increased by 240 percent. Physical resource usage increased by 35 percent during that same period.
* A 2007-08 survey on use of resources of all formats at Hamersly Library revealed 87 percent of items accessed were electronic and 13 percent were physical.
* Costs associated with maintaining or buying those materials in 2007-08 were $288,600 for physical resources and $209,949 for electronic resources.
* In a 2009 survey of 128 faculty regarding format preference of journals, 63 percent of respondents preferred online, 14 percent favored hard copies, and 23 percent had no preference.
* Roughly 74 percent of the library's usage is electronic journals and periodicals, while print books are second at 10 percent.