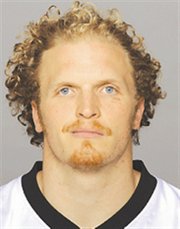 POLK COUNTY -- Jeff Charleston came up completely empty on his last hunting trip.
But the 2001 graduate of Central High School isn't at all worried about that. His sole concern is his next hunting trip.
Charleston and his teammates on the New Orleans Saints football team are hoping to soon bag a berth in Super Bowl XLIV.
That hunting trip begins Saturday, Jan. 16 when the Saints host the Arizona Cardinals in the divisional round of the playoffs. The New Orleans-Arizona winner will play either Dallas or Minnesota for the right to play in the Super Bowl, which will be held Feb. 2 at Dolphins Stadium in South Florida.
"It's a one-game season," Charleston said from New Orleans in a telephone interview. "You definitely want to take it one game at a time. You lose and you're going home. There's a little more energy in the game. Each play counts that much more."
Charleston was a three-year letterman in football and basketball at Central and played football in college at Western Oregon and Idaho State.
His professional football career began in 2006 when he signed with the Houston Texans as undrafted free agent. Charleston, a 6-foot-4, 265-pound defensive end, was waived by Houston and signed with the Indianapolis Colts in 2007.
The Central product played in 13 games and started three during the 2007 season. He recorded 42 total tackles, one quarterback sack, one forced fumble and two deflected passes.
He was waived by the Colts during preseason the following year and picked up by the Saints. Charleston played in 10 games in 2008 and registered 11 tackles.
In 2009-2010, Charleston appeared in all 16 regular season games, playing mainly on special teams, and registered 10 total tackles.
As a team, the Saints rolled to a 13-0 record before finishing 13-3. New Orleans is the top-seeded team in the National Football Conference playoffs.
"It's been a good season," Charleston said. "Obviously we started off real well and had a couple of tough losses at the end. But it still feels good. We got some rest this week. We get to host a game, and we'll see who we play this weekend."
Charleston's role on defense could increase in the playoffs because the Saints were forced to put starter Charles Grant on injured reserve with a triceps injury. Charleston is listed as the backup behind Will Smith at right defensive end.
"My role should increase in the playoffs," Charleston said. "My body's ready for it. Mentally, I'm ready for it. I'm ready for the challenge."
The Saints earned a bye in the first round of the playoffs and were given extra time off by their coaches.
"I went to Mississippi and did some deer hunting," Charleston said. "It was a lot of fun. We ate some good food. Personally, I didn't get anything. But that was OK. It was good just to get away from football for a little while. Now I can't wait to get to practice tomorrow."
Charleston appeared in one postseason game with the Colts when they were upset by the San Diego Chargers. Needless to say, it's an experience he doesn't want to repeat.
"It's hard not to think about the Super Bowl," he said. "I've been to a divisional playoff game before. If you don't win that one, you're not going to the Super Bowl. That's my focus right now."