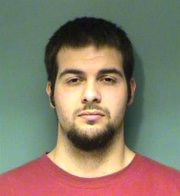 MONMOUTH -- Three men were arrested on Thursday, Jan. 14, after allegedly breaking into a medical marijuana grower's supply and attacking him with a knife, Polk County Sheriff Bob Wolfe said.
Authorities received a call regarding a burglary in progress at the home outside of Monmouth at 1:50 a.m. Wolfe said the victim caught two of the suspects stealing marijuana from his shed.
Before deputies arrived, however, the victim's wife informed dispatchers that a third suspect appeared.
A fight ensued and the three men took a handgun away from the property owner. One of the alleged burglars, David Miner, 22, of Monmouth, also slashed the man on the neck with a knife, the sheriff's office said.
The victim's wife continued talking to dispatchers while the trio fled the home. They left their vehicle after it got stuck in the driveway, Wolfe said.
Authorities from several Polk and Marion county agencies searched the area for the suspects before locating them -- and the stolen handgun -- at 8:10 a.m. at an apartment complex in the 200 block of South College Street in Monmouth, Wolfe said.
Miner and Monmouth residents Matthew McCarroll, 22, and Jacob Heinz, 22, were arrested and charged with burglary, robbery and assault, Wolfe said.
They are being lodged at Polk County jail. Miner's bail was set at $180,000, Heinz's at $110,000, and McCarroll's at $75,000, the sheriff's office said.
Heinz had been arrested during a county domestic violence sweep in October on a probation violation related to a weapons charge.
Wolfe, in a press release, said the situation arose out of the risks associated with the medical marijuana program.
"While I recognize and respect the right of property owners to protect themselves and their residence," Wolfe said, "what happened here is a situation which had all the potential of going terribly wrong over some marijuana."