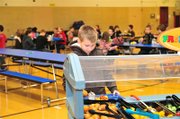 DALLAS -- Change was on the lunch menu when Lyle Elementary School students returned from winter break on Jan. 4.
Teachers at Lyle were searching for a way to maximize student learning time as well as squeeze in more lesson preparation. To accomplish both objectives, they suggested not a schedule adjustment, but moving student lunch periods out of the classrooms and into the gym. Lyle's Parent-Teacher Club supported the transition, fundraising to buy tables for students to use in the gym.
Principal Todd Baughman said the old system of running one class at a time through the hall near the kitchen and having students cart their lunches back to classrooms was cutting five to 10 minutes out of class instruction per day. Though that doesn't seem like much, he said by the end of the year, it adds up to a significant loss in learning time.
The shift also gives teachers additional time to prepare for afternoon classes, instead of combining lunch with prep.
"This adds back some time for them to catch their breath in the middle of the day," Baughman said.
Students spent their first week back learning cafeteria etiquette, cleaning after themselves and putting lunch trays in the proper place.
"They are doing a wonderful job," Baughman said.
The school is still looking into ways to further streamline the process for food preparers and servers, but so far the move has been good for teachers and students.
"We are always trying to optimize instruction time," Baughman said.