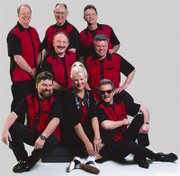 DALLAS -- It's time to dust off your lawn chairs and head downtown on Thursday nights for some good music.
Summer weather has finally arrived just in time for Dallas' popular Sounds of Summer Concert Series to return to the Rotary Performing Arts Stage on Academy Street on July 8.
The free eight-week series features two acts new to the event and a few returning favorites, said series coordinator John Swanson.
The city doesn't keep track of attendance, but with the consistent popularity of the series, it's probably best to stake out a spot early for the shows.
"All I know is that we fill that space," Swanson said.
Music styles for this year's lineup range from electric blues to reggae to rock `n' roll, including returning favorites Rhythm Culture, Joe Shinkle & 99W, and closing night performers Johnny Limbo & the Lugnuts on Aug. 26.
Two shows in August will feature artists new to the Rotary stage. Gil Reynolds and Deep Blue, a blues and jazz fusion band, will perform on Aug. 5. Singer/songwriter Matthew Price will take the stage the following week. Swanson said from what he has seen and heard from the newbies, Dallas should expect a pair of "rockin'" shows.
Last year's successful Marion-Polk Food Share food drive benefit concert will return this year to see if the community can top the nearly 900 pounds of food donated last year.
"We filled a truck with food that all stayed in the community," Swanson said.
The benefit concert is Aug. 19, hosted by the Dallas Church Band.
Swanson said the series has become a tradition for the fans and acts who return each year, and for the sponsors who help the shows go on. He said people have come to expect the shows to offer a relaxing atmosphere welcoming the whole family to enjoy music in good company.
"The community comes down and we have a big party each Thursday night," Swanson said.
DALLAS
Sounds of Summer
At Rotary Performing Arts Stage
Thursdays, 6:30 p.m.
* July 8 -- Ben Rice Band (electric blues)
* July 15 -- Rhythm Culture (reggae)
* July 22 -- Joe Shinkle and 99W (country western)
* July 29 -- Ty Curtis Band (blues/rock/funk)
* Aug. 5 -- Gil Reynolds and Deep Blue (blues/jazz fusion)
* Aug. 12 -- Matthew Price (Americana singer/songwriter)
* Aug. 19 -- Dallas Church Band (community food drive)
* Aug. 26 -- Johnny Limbo & the Lugnuts (rock 'n' roll)