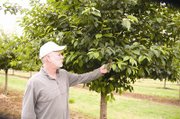 POLK COUNTY -- Residents of Western Oregon are embracing the sunshine of the past several days -- and doing their best to forget the last two months of unseasonably cool temperatures and record rainfall.
Perhaps none more so than farmers in Polk County and the Willamette Valley.
For those dealing in certain agricultural commodities, the wet conditions have either delayed operations or done significant damage to crops.
"I've been working here for 32 years ... and I don't recall the number of wet days and cool days in succession," said Gene Pirelli, an Oregon State University Extension specialist.
Phil Walker, who owns fruit and nut orchards outside of West Salem, said he was thankful most of his acres of sweet cherry crop has been green enough to avoid rain cracking.
Unfortunately, 75 acres of pie cherries will see a very low yield because the weather was "so cool and moist coming out of bloom period they didn't set well."
An orchard of Italian prunes was also wiped out, while standing water damaged the root systems of some of his filbert trees.
"We're going to be off this year," he said. "We hit on every crop last year, and this year we'll be light on some of them."
The moisture has had little or no effect on Polk County's commercial grass seed operations, Pirelli said. Those growing hay or clover for silage, however, have been delayed for weeks -- which means potentially fewer cuttings during the summer.
Wheat growers have been some of the hardest hit, as farmers on both sides of the Cascades have been enduring an epidemic of stripe rust fueled by the cool temperatures.
The fungus kills leaf tissue crucial in the photosynthetic process that fully fills a stalk's grain head and lowers yields.
There's perhaps 200,000 acres of wheat planted in the valley between Washington and Linn counties. Mike Flowers, an OSU cereal and grain specialist, said the disease may drive down yields by as much as 10 percent.
"Wheat plants have genes that are resistant to the rust," Flowers said. "The problem is, there needs to be higher temperatures before they kick in."
Ken Quiring, who grows wheat with his brother and father in the Rickreall area, said he discovered stripe rust about a month ago and has sprayed his fields twice -- once more than usual. The process costs about $20 an acre.
"It seems to be under control, but you won't really know until you combine and it's mature," he said.
Walking along a block of wheat off Highway 99W, he spots a few plants along the edge of the field skipped over by a sprayer. The telltale striped yellow leaves indicated rust.
"That's what an ugly plant looks like," Quiring said.
The wet weather had made for difficult planting conditions for row crops such as beans and corn, as well as maintenance such as pruning and weeding in fruit and nut orchards.
At Green Villa Farms' three-acre fresh market strawberry patch near Independence, employees shrugged off the rain while picking Tillamook berries.
One of them, Bertha Gutierrez of Independence, remarked it was easier than working while hot outside.
Ripe berries went into crates bound for grocery stores or the fruit stand; rotten ones were removed and left in the middle of rows to avoid infecting other berries.
Charlotte VanderHave, who runs the farm with her husband, Joost, said while her late berry varieties should be fine, about a third of the Tillamooks were coming up moldy because of excessive rain.
Without ample sunshine, the ones that escaped disease, "aren't as sweet as we would have liked," VanderHave said.
While the weather has taken a toll, Walker said it could have been worse.
"Plants and trees have to have water," he said, "so it's nicer to have too much than not enough."