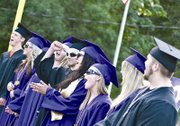 POLK COUNTY -- Seniors at Falls City, Perrydale and Morrison capped their high school careers at recent graduation ceremonies.
Morrison's Class of 2010 gathered at Dallas High School on June 10 for its commencement program. The Thursday night ceremony, moved indoors due to the wet weather, saw 34 seniors receive their diplomas.
Senior class speakers were Dene Collins, Amanda Morris, Josh Trine and Taylor Weiser.
Fall City High School's Class of 2010 came together on the school football field for its graduation program on Friday, June 11. Nine seniors received their diplomas.
Class valedictorian was Alea McConnell.
Perrydale High's Class of 2010 met at Perrydale School June 11 for its commencement program.
The Saturday afternoon ceremony saw 28 seniors receive their diplomas.
Rachel McGill gave the class valedictorian address, while her sister, Michelle, gave the salutatorian address.