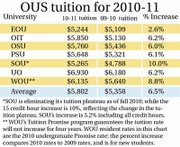 MONMOUTH -- Incoming freshmen and new students at Western Oregon University will see an 8.8 percent increase in tuition this fall.
The hike was approved earlier this month by the State Board of Higher Education, which also announced that state appropriations to the Monmouth school would fall by $1.6 million for the coming fiscal year.
Western's tuition increase represents the highest of Oregon's seven public universities. A freshman or in-state transfer can expect to pay $6,135 for 15 credit hours per term for the 2010-11 academic year.
The statewide campus average for the same course load is $5,802 -- or a 6.2 percent jump from current levels.
Graduate, international and some out-of-state students at WOU face a 5.2 percent tuition increase this fall.
"We wish it didn't have to be that much," said Mark Weiss, WOU executive vice president. "But in order to maintain our services to students, we think it needed to be set at a realistic level."
The increase does come with an asterisk. For the past four years, Western has allowed students to take part in a tuition guarantee program that freezes rates for four years. A freshman enrolling this fall, for example, will pay $136 per credit hour through 2014.
The Oregon University System typically raises tuition and fees for other universities by about 5 percent annually.
Weiss noted that the higher tuition has been somewhat offset by WOU agreeing to make up the difference for a 2009 instance in which the state rewarded Oregon Opportunity Grants to applicants without enough money to cover the entire amounts.
"We'll make up the difference next year on a one-time basis," Weiss said. "We think it's at $600,000."
Because of the state's $577 million shortfall for 2010-11 fiscal year, higher education leaders proposed a $31.6 million reduction to Oregon's universities.
Western's reduction of $1.6 million is about 9 percent of the state appropriations it would receive. That won't, however, force the school to conduct layoffs or academic program reductions.
Weiss said WOU will cut down on information technology purchases and replacements, classroom equipment and other expenses to make up the difference. A salary freeze and furlough program for classified workers will also continue, he said.
Weiss said the school will receive $17 million in state appropriations next year. That's down from the $18.6 million in state funds from 2009-10 and $19.1 in 2008-09.