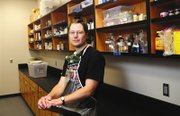 MONMOUTH/INDEPENDENCE -- Central High science teacher Greg Craven spent a day last week sorting through chemistry equipment, hazardous liquids and compounds relocated from his old classroom to one in the newly reconstructed building's north wing.
With thousands of items dating back 50 years and, now, a seemingly infinite supply of empty cabinet space, Craven said he felt overwhelmed -- but impressed.
"The voters gave us a huge gift with that bond measure," he said, excitedly pointing out emergency wash stations and a storage facility wide enough that one could enter without shuffling sideways as required in his former digs.
As he worked, however, it was with a twinge of regret. On June 1, he and 58 other Central School District teachers received notices that they could potentially lose their jobs because of the state's funding crisis.
"So you have a great building and you can't put enough people in it to help students," Craven said. "One of my colleagues said it's like buying a Cadillac body and putting a Yugo engine in it."
Craven, 40, has taught physics and chemistry at Central High for seven years. Outside campus, he's best known as the guy who created "The Most Terrifying Video You'll Ever See," -- a 9«-minute clip about global warming that garnered worldwide attention and millions of views on YouTube.
Craven made a popular follow-up -- "my magnum opus" -- and wrote a book on climate change published in 2009.
Central is in the process of finalizing its budget. Until that happens, Craven said he will be in a sort of job limbo.
Craven said he was perturbed when he received the notice, which he refers to as a pink slip "that's not even pink."
As a response, he took to the Internet again with a new video in which he laments the color of the notice, and more seriously, opines on the funding cuts to education locally and nationally in the past several years.
"Times are tough for everybody right now," Craven said. "But what catalyzed the video for me was that this is just a continuing pattern for schools -- we cut and don't restore.
"When was the last time somebody came to a school district and said, `Here's 9 percent more to make smaller class sizes,'" Craven said.
This is Craven's third reduction-in-force notice in 10 years of teaching -- all while at Central. The first was in 2003. He was laid off after that, but returned to Central in 2005. He received another notice last year, but was spared.
"I've learned not to take it personally," Craven said. "If this was just one layoff in the cyclic downturn of the economy, how could I complain when there are people who can't find jobs?
"But what kills me is the pattern," he continued. As an example, he noted Central hadn't recovered its staffing level lost during reductions in 2002.
Underfunding education "means we won't have the people to manage, lead and innovate ... or heck, even run a cash register," he continued.
Craven said what he's heard from peers about the current crisis is a sense of resignation -- mostly about its effect on students who have greater benchmarks to meet now and fewer resources to do it.
"It's like, `how is a physical education class supposed to run with 60 kids in it?'" he asked.
Craven said for him personally, it's shaken his confidence in the stability of teaching as a profession, enough so that he fears for those who are attempting to become educators.
"That's a sad mind-set to come to," he said. But "being a teacher, you never know if you're going to have a job."
After his climate change videos hit in 2007, Craven received a glut of media attention. His subsequent book, "What's the Worst that Can Happen?" was published by Penguin Publishing and sold a few thousand copies.
And he still does the occasional conference, including an upcoming one this week in Germany, week where he'll speak on China and global warming.
Craven said he's keeping his fingers crossed there will still be a place for him at Central come fall. If not, it might be time for a career change -- perhaps physical therapy or nursing, he said.
He noted he was once suckered into doing a "Mr. Science" routine for a child's birthday and joked "maybe I can hire myself out for parties and bar mitzvahs."
Of this latest video, Craven said he hopes people will pass it along, to spur conversation about societal choices.
"We say education is a priority ... but we throw it in the mix of things that are all competing for the same piece of a too-small pie," he said. "The biggest bang for a buck you can get is a well-educated citizenry."
--
Greg Craven lives with his wife, Jodi, and their two young daughters.
You can view Craven's video "I Want a Pink Slip, Dammit!" by copying and pasting www.youtube.com/watch?v=pyCXBYP_p into your brower's address bar.