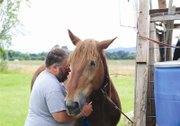 Deadline nearing
for 4-H fair entries
Deadline for Polk County 4-H members to participate in the 2010 Polk County Fair is 5 p.m. on Wednesday, July 7.
Entry forms must be turned in at the Polk County Extension Office, 182 SW Academy St., suite 102, in Dallas.
4-H members must submit required paperwork and the classes they plan on entering to show projects at the fair, which is scheduled Aug. 12-15 in Rickreall. Forms are now available at the Extension Office.
For more information: 503-623-8395.
Senior mealsite
has new location
The Senior Nutrition Program of NorthWest Senior & Disability Services is relocating its Monmouth mealsite effective Thursday, July 1.
The location will change from Monmouth Praise Assembly Church to the Monmouth Senior Center, 180 S. Warren St.
Serving times will remain Monday through Friday at 11:30 a.m., and service to area seniors will not be interrupted during the move.
Meals are available to seniors 60 and older. There is no cost, but a donation of $2.75 per meal is suggested.
For more information: 503-838-2084.
Monmouth market
open for holiday
The Monmouth Farm and Craft Market will be open for an extended period during Monmouth's Fourth of July weekend festivities.
The market, located in the old fire hall building at 152 Warren St. N., across from Main Street Park, will be open July 2-3-4 from 10 a.m. to 5 p.m. each day. This is in addition to the regular Wednesday market hours of noon to 6 p.m.
For more information, including how to become a vendor: Mel, 503-787-3561.
Ice cream social
scheduled Friday
The Monmouth branch of Washington Federal Savings will host its 10th annual All-American Ice Cream Social on Friday, July 2, from 1 to 4 p.m.
The bank at 523 Main St. E. will provide free ice cream sundaes, and there will be games and prizes. Live music will be performed by HomeGrown OldTime, a local group that features a fiddle and a banjo.
There is no cost and the public is welcome.
For more information: 503-838-3744.
DHS graduate sets
July 2 performance
Abbe Groh, a Dallas High School graduate and competitor in this year's Miss Oregon pageant, will be performing a benefit concert Friday, July 2, at 7:30 p.m. at Dallas United Methodist Church.
Groh will be performing compositions by Schubert, Faure and Dvorak, as well as some of her favorite Broadway musical numbers. She will be accompanied on the piano by Elizabeth Goodenough of Hillsboro United Methodist Church.
A freewill offering will be accepted to benefit Children's Miracle Network and Groh's pageant expenses.
For more information: Gwen Drake, 503-530-0035.
Weekend book sale
planned at library
Friends of the Independence Public Library will hold a book sale on Saturday, July 3, and Sunday, July 4, from 10 a.m. to 4 p.m. each day.
The sale takes place at the old city library, 311 Monmouth St., Independence.
The selection includes fiction, nonfiction, mysteries, Westerns, LP records, videos, books on tape, old books, cookbooks, garden books and more.
Hardbacks are $1 and paperbacks are 50 cents, while children's books and encyclopedias are free. Proceeds go to special programs and supplies for the library.
For more information: Betty Plude, 503-838-4039; Independence Library, 503-838-1811.
July 3 garage sale
to help Bambinos
Bambinos, a Dallas outreach ministry that serves low-income families with children, is hosting a garage sale from 9 a.m. to 2 p.m. Saturday, July 3.
The sale will consist of clothing for adults, babies and children, as well as other items. The sale will be held at 885 SW Oakdale Road, at the corner of Fairview Avenue in Dallas.
Donations also will be accepted. Bambinos is a nonprofit charity.
Bambinos also will be signing up families in need of summer clothing for children at the garage sale location from 9 a.m to 2 p.m. Summer clothing items, flip flops and sunscreen will then be delivered based on need to families later in July.
For more information: 503-623-6011.
Polk Fire slates
holiday breakfast
Community members are welcome to fill their bellies before the grand parade on Sunday, July 4, by stopping by the annual fireman's pancake feed at Polk Fire District No. 1.
Breakfast will run from 6:30 to 10 a.m. at Central Station, 1800 Monmouth St., Independence. Cost is $5 for adults, while children 6 years and under will eat for free.
The menu includes pancakes, scrambled eggs, ham and a beverage choice of coffee or milk.
The event, which traditionally feeds about 1,000 people, is one of two fundraisers for the Polk No. 1 Firefighters Association. Proceeds support the union's local projects, including sponsorships of cub scout packs and the fire explorer program.
For more information: Steve Moser, 503-838-1510.
Polk Flea Market
open this Sunday
A special session of the Polk Flea Market is scheduled to operate Sunday, July 4, at the Polk County Fairgrounds in Rickreall.
The extra market, not on the regular annual market schedule, provides new vendors, those on a long waiting list, an opportunity to set up at the market. A number of new and regular vendors are scheduled to be on hand. Table space remains available and several vendors will set up outside, weather permitting.
Regular market hours are 9 a.m. to 3 p.m. Admission is $1, with children 12 and under free. Early admission runs from 6 to 9 a.m. and costs $5.
This is the second consecutive year operators of the Polk Flea Market have had a special July market session.
For more information: Deb Thomas, 503-428-8224; e-mail to polkproductions@meritel.net.
Youth heritage craft
program will begin
Registration is now being accepted for this summer's first session of the ICAN Create Heritage Crafts program offered through Dallas Intercommunity Activity Network.
Participants will learn a variety of crafting techniques from the past, including crochet, sewing, knitting and needlework from crafters of the Dallas Senior Center.
The program, available for youths ages 7 and older, is offered for four consecutive Wednesdays beginning July 7 from 10 a.m. to noon at the Dallas Senior Center, 955 SE Jefferson St. Cost is $25 for the four weeks or $10 for weekly drop-ins.
For more information or to register: 503-623-5055; www.dallasican.org; e-mail to michelec@dallasican.org.
Museum fundraiser
seeking donations
The Polk County Museum is collecting donations for its annual "Porch Sale" to be held Saturday, July 17.
Donations can be dropped off at the museum, 560 S. Pacific Highway (99W), Rickreall, between 1 and 5 p.m. every Monday, Wednesday, Thursday, Friday and Saturday through July 14.
The museum requests that no clothing or non-working electronic items be donated.
For more information: Polk County Museum, 503-623-6251.