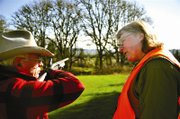 POLK COUNTY -- Margaret Sparrow slips a few shells into the magazine of a 20-gauge shotgun, pulls back the bolt handle, and calls out to the trap machine operator at her left.
"OK, pull."
A clay pigeon soars forward. Sparrow steadies her weapon, tries to lead her target and fires twice. The orange and black disk drops to the ground intact.
"I was a little nervous, especially on that shot," admits Sparrow, a marine chemist at Oregon State University. "I can't seem to orient the pigeon in relation to the barrel."
Nearby, more than a dozen other women are lined up and blasting away along a makeshift firing range overlooking a valley on Chuck and Kendall Cates' pheasant reserve and farm, just northeast of Pedee.
After a few more unsuccessful attempts, Sparrow eventually nails a target. She would be putting her newfound trapshooting skills to the test on her very first hunting trip an hour later.
A native San Franciscan now living in Philomath, Sparrow loves backpacking and fishing. But as a youth, she yearned to give hunting a try, she said.
"I had family in Montana we used to visit when I was a kid," she said. "I used to beg them to take me hunting and I never got to go.
"I've gone target shooting," she added. "But I've never gotten up the nerve to kill a living animal."
Sparrow and about 15 other women from across the state participated in a hunting workshop at Luckiamute Valley Pheasants.
The event was titled "Becoming an Outdoors Woman." Coordinated by the Oregon Department of Fish and Wildlife, it served as both a refresher to hunters and it gave novices like Sparrow and Teresa Morales, a civil engineer from Corvallis, a chance to sample the sport in a relaxed environment.
Morales said she deer hunted with her husband for the first time last summer.
"He grew up in interior Alaska and I had always heard stories about what he had done when he was younger," she said. "I thought this would be kind of fun."
ODFW offers clinics in different outdoor activities year-round. One that started nine years ago and has been growing in popularity since is an introductory pheasant hunting course for women.
Mark Newell, ODFW skills and education coordinator, said the workshops benefit his agency -- leading to increased license sales and boosting people's appreciation for nature as they vote on natural resource issues.
And generally, "women haven't been brought up to hunt," Newell said. "Their friends don't hunt and they haven't really had a place to go to figure it out."
Women are a fast growing part of the sportsman population -- and a needed one, as the average age of male hunters and fishermen increases, he said.
Becoming an Outdoors Woman workshops occur four times a year and draw women ages 18 to 70. Reasons range from wanting to hunt with their kids to simply seeking a new hobby, Newell said.
Game hunting has traditionally been the realm of men. But Bev Cates, whose husband Chuck runs the 340-acre preserve with his brother, Kendall, said she's noticed more women showing up for day hunts, "with husbands bringing their wives."
While it depends largely on the individual, Chuck Cates said he's noticed some subtle differences in the way men and women approach hunting.
"Women like to go out, hunt for a little while, and when they get tired, they want to sit down," he said. "They don't want to turn it into a forced march.
"They're more social animals, but you can do that while you're upland bird hunting," he continued.
Newell said women also display more patience, which leads to better accuracy.
"Men get frustrated by that," he said.
At the workshop, the group, some from as far away as Bend, learned about gun safety, firing technique and how to cross obstacles when trundling around in the field.
Morales said she regularly hikes and mushroom hunts, and just felt like hunting was a natural extension.
"I have a huge garden at home, I have chickens," she said. "The next logical step is how to harvest food from the forest."
Sparrow said women at her office generally don't show as much interest in the subject of hunting as her male friends do, which is normal.
"I think it's what you grew up with," she said. "Guys grew up with this tradition of their fathers, uncles or brothers showing them how to hunt."
Of her expedition, Sparrow said it was exciting watching the dogs work and flush birds from the brush. She took about four shots that day, and "maybe grazed one bird." Her party scored four pheasants, one of which she was able to take home.
"It was a blast, so to speak," Sparrow said, noting she was now in the market for a shotgun. "I also learned pheasants are delicious!"
--
BREAKOUT BOX
Oregon Department of Fish and Wildlife will host another "Becoming an Outdoors Woman" workshop, this time on outdoor survival skills and fishing, at Drift Creek Camp near Lincoln City May 28-30. Preregistration is required. Cost is $130.
For more information, contact Mark Newell at mark.newell@state.or.us or 503-947-6018.