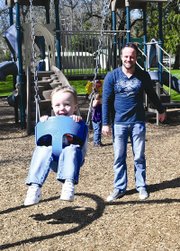 Orders being taken for lily fundraiser
There's still time to place your order for the Monmouth-Independence Rotary Club's annual Spring Lily Sale.
Unscented Asiatic lilies in bunches of 10 stems will be available on April 1. Deadline to place an order is Thursday, March 25.
Solid-colored bunches in white, pink, orange or red blooms cost $18, while mixed-color bunches are $20. Proceeds from the sale benefit the club's Youth Exchange Program.
Orders may be placed through any Monmouth-Independence Rotarian or by calling Peggy Mehl at 503-838-0203, ext. 4100.
Monthly music jam returns to center
The Dallas Senior Center will welcome spring in song when it hosts its monthly "music jam session" on Thursday, March 25, at 6:30 p.m. at the center, 955 SE Jefferson St.
All acoustic and low-volume amplified musicians, singers and music lovers are welcome to participate. Admission is free; donations accepted.
For more information: Michele Campione, 503-623-5055.
F.C. Garden Club to meet Thursday
Falls City Garden Club will hold its monthly meeting on Thursday, March 25, at 7 p.m. at Mountain Gospel Fellowship Church, 257 N. Main St., Falls City.
Club president Nigel Page will recount a 200-year botanical story of Lt. William Bligh, who was commissioned to obtain plants and nearly lost his life doing it. Page will also share photos of his botanical trip to Kauai, Hawaii.
Polk County Master Gardener Barbara Nichols will speak regarding the vote for the creation of an Extension Service taxing district for Polk County.
For directions or more information: Nigel Page, 503-787-4501; Gladys Norman, 503-787-6105.
Rummage sale set for Masonic Hall
The annual rummage sale hosted by the Dallas Naomi Chapter No. 22 Order of Eastern Star will be held on Friday and Saturday, March 26-27, from 9 a.m. to 3 p.m.
The sale will be at the Masonic Hall, 140 SW Clay St., Dallas. Funds raised will go to the chapter's philanthropic projects.
For more information: 503-623-2287.
Library book sale set this weekend
Friends of the Independence Public Library will hold a used book sale Friday, March 26, and Saturday, March 27, from 10 a.m. to 4 p.m. at the old library building, 311 Monmouth Ave.
A large selection of books, including fiction, nonfiction, Westerns, cookbooks and gardening books, LP records, videos, books on tape, DVDs and more will be available. Cost is $1 for hardbacks, 50 cents for paperbacks, and children's books and encyclopedias are free.
Proceeds benefit special programs and supplies for the library.
For more information: Betty Plude, 503-838-4039; Independence Public Library, 503-838-1181.
Doll show and sale slated for Saturday
The Wagon Wheel Dollers will host its 28th annual Doll Show and Sale Saturday, March 27, at the Polk County Fairgrounds, 520 S. Pacific Highway (99W), Rickreall.
The event, which is expected to have 130 vendor tables, will run from 9 a.m. to 4 p.m.
It will feature dolls of every kind, as well as bears, miniatures, toys and related doll items.
A special pre-sale admission from 9 to 10 a.m. is $6. Regular admission after 10 a.m. is $3, with children under 5 admitted free. Proceeds benefit a variety of local community groups.
For more information: Arleta Day, 503-581-1206.
Dallas Bike Club will meet Saturday
The recently-formed Dallas Bike Club will conduct a meeting on Saturday, March 27, at 9 a.m. at Courtyard Coffeehouse & Deli, 156 SE Mill St., Dallas.
The group will discuss plans for upcoming spring and summer rides, select a club logo, and share information and education on cycling. Anyone interested in is welcome.
For more information: Esther Lieberman, 503-831-1994.
Concert to feature Christian performer
Christian country artist Charlie Walker will perform a concert Sunday, March 28, at Dallas New Life Church of the Nazarene, 341 NE Kings Valley Highway.
Walker is considered one of the Pacific Northwest's top gospel singers. He will share stories, songs and personal testimony during the free 5 p.m. performance.
For more information: Pastor Kerry Lumley, 503-623-3775.
Book fair to take place at hospital
West Valley Hospital volunteers' biannual book fair fundraiser is set for Tuesday, March 30, from 9 a.m. to 3 p.m. in the hospital conference room at 525 SE Washington St., Dallas.
The "Books Are Fun" book fair includes more than 250 titles of new books by worldwide publishers, music, stationery, scrapbooking items and educational gifts for all ages.
Merchandise is up to 70 percent off retail prices. Cash, credit cards and checks are accepted. Proceeds go toward the hospital volunteers' long-running scholarship fund for a 2010 Polk County graduating student.
For more information: Jan Payne, 503-623-9455.
Grief support group to begin meeting
A free six-week grief support and recovery group will be hosted by the Health Care Committee of Dallas Evangelical Bible Church.
The focus will be on how to adjust and gain a new perspective after the loss of a loved one. Sessions will include physical and spiritual symptoms of grief and mourning, approaches used for grief resolution, loss history recording, journaling, and other methods of coping.
The group will meet on Tuesdays beginning March 30 and continuing through May 4 from 6:30 to 8 p.m. in the church's Ambassador Room, 1175 SE Howe St.
For more information: Julia, 503-508-4506.
CHS multi-class reunion scheduled
A multi-class reunion for 1975-1985 Central High School graduates has been scheduled Saturday, Aug. 7.
The first event takes place at Salem's Riverfront Park from 1 to 5 p.m. Cost is $5 for adults and $2.50 for children under 12. Hamburgers and hot dogs will be provided; attendees are asked to bring a potluck dish and lawn chairs.
A gathering is also scheduled from 7 p.m. to 1 a.m. at the Independence Elks Lodge featuring food, drink and entertainment.
For more information: Sherry Lowells, 503-931-3201; e-mail to sherrylowells@comcast.com.
Local craft vendors needed for event
Reservations are being accepted for 6-foot craft vendor tables for the Falls City Garden Club's upcoming spring plant sale.
Cost is $5 per 6-foot table, and vendors will be allowed to display and sell their works.
The sale is scheduled Saturday, April 24, at Mountain Gospel Fellowship Church, 257 N. Main St. in Falls City.
For more information: Nigel Page, 503-787-4501; Gladys Norman, 503-787-6105.
Seniors seeking donations for sale
Dallas Area Seniors are accepting donations for a rummage sale fundraiser scheduled April 16-17 at the Dallas Civic Center.
Among the items being accepted are crafts, books, clothing and furniture.
For more information or to make a donation: 503-623-8554.