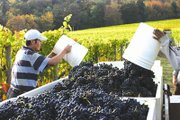 POLK COUNTY -- The wine and vineyard industry will need to be aggressive in order to rebound from a challenging 2009, according to regional experts.
Last year, Polk County and other regions saw greater production levels than ever. Overall in Oregon, however, sales and prices decreased because of a grape oversupply and a sluggish economy.
That's according to a recently released report by the National Agricultural Statistics Service (NASS).
Recovering "means being aggressive in spending, in pricing and much more aggressive in selling," said David Adelsheim, vice chairman of the Oregon Wine Board, which funded the study.
"Everybody I know in the wine business that has a job even remotely related to the sale of wine is on a trip right now," Adelsheim added.
Oregon's grape production topped 40,000 tons for the first time last year, while the average yield per harvested acre rose by 11 percent.
But case sales of wines made in the state dropped by 5 percent -- the first decline since 2002. And wine sales in dollars fell by 16 percent, from about $240 million in 2008 to just under $202 million in 2009, NASS said.
"Since wineries spent money to create the wine sold in 2009 in previous years, that reduction in income could not be offset by any reduction in costs of production," Adelsheim said.
Restaurants aren't buying as much high-priced wine, while customers are being more stingy with their wallets, Adelsheim said.
Wineries are coping with this by coming up with less expensive lines of wine and discounting older bottles, he said.
"There's nothing like a recession to bring out creativity in trying ... to market inventory," Adelsheim said.
The state's production and harvested acreage increased in 2009 after a low crop in 2008.
That, along with more vineyards coming online and a sluggish demand for wine, has yielded an oversupply. In 2009, 622 acres of grapes weren't harvested.
"But there's lemonade to be made out of those lemons, and that's less expensive wine for consumers," Adelsheim said. "And excess grapes, wineries -- even new ones -- will see an opportunity to buy grapes at lower prices.
"I'm guessing we'll see new brands of pinot noir and gris."
Polk County was among Oregon's wine-producing leaders last year, ranking second among counties in planted and harvested acreage, and production, according to NASS.
It's also fourth in the number of vineyards with 71. Only Yamhill, Jackson and Washington counties have more.
Polk wine makers and growers said while 2009 was rough for Oregon as a whole, things haven't been so dramatic locally.
Eric Rogers of Eola Hills Winery in Rickreall said he harvested more than 375 tons of grapes last year, but doesn't currently have a problem with oversupply.
Of sales, Rogers said Eola experienced a sharp decline in pinot noir sales during the first half of 2009. After dropping bottle prices by a few dollars, "we got back up to 2008 case sales."
Rogers said most of his wine is affordably priced -- some at $10 a bottle.
"The further north (in the Willamette Valley) you go, it seems the cost of land and other inputs is greater, and the price of wine is greater," he said. "In Polk, we're all in kind of the same market -- good wine at a good price."
Adelsheim said independent grape growers -- who don't make their own wine -- could see problems moving their fruit.
Dan Dusschee of Freedom Hill Vineyard in Polk County said his operation has been around long enough -- 28 years -- and deals with enough established wineries that that hasn't been a problem for him.
But "I do think it was difficult for people with less experience to find something for their fruit," Dusschee said. "Most wineries we deal with cut back on their production."
One additional factor vineyards, including some in Polk County, have had to deal with is phylloxera, an insect infestation.
"Some growers may have ripped out vineyard acres due to this," said Patty Skinkis, an assistant professor of horticulture and Viticulture Extension Specialist at Oregon State University.