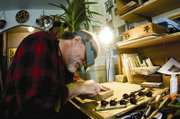 INDEPENDENCE -- The art of wood engraving and relief printing has its origins in ancient China. It was widely used in Europe during the 19th century, and became a reproductive technique to create illustrations in magazines, books and newspapers.
Though the resulting images can be incredibly detailed, engraving is an admittedly laborious process -- one that doesn't lend itself to spontaneity, said Paul Gentry, an Independence-based mixed-media artist.
"It's not a common medium for artists to use anymore," Gentry said. "It's nothing you're going to let yourself go with."
Inside his studio, he's hunched over a 7-by-9-inch block of wood, making tiny, precise cuts -- or "stitching." He wears jeweler's glasses to prevent straining eyes from the delicate work.
The rustic scene of a barn nestled at the foot of some mountains -- it's an actual site he's passed while traveling in the Oregon Coast Range -- is taking shape.
"It's kind of like cutting a diamond," he continued. "I like that; it's challenging."
Gentry co-owns the River Gallery cooperative in Independence with 15 other artists. While the 54-year-old enjoys painting, drawing, sculpting and collage, he's carved a niche for himself doing prints from wood engravings and cuts.
"When I paint, it's more ambiguous," said Gentry, whose work has been displayed in galleries and at shows across the Pacific Northwest.
"But when you take a design and cut it into wood, it becomes a defined thing."
Gentry grew up in the Midwest and Rockies and has been an artist since he was old enough to pick up a pencil, he said. His father painted as a hobby, and the two set up easels to work side by side.
After high school, he wound up at a vocational school for welding, and worked in Chicago repairing train cars. Gentry thought welding was "fascinating," and hoped
to use the skill as an abstract sculptor, he said.
Gentry lived in Seattle during the 1970s, building wood cabinets and taking art classes at a community college, where he got his first exposure to wood cuts and wood block printing.
"I was taken with it," he said. "It's had its periods where it was a popular art form and others where it's neglected.
"It's just the process, and the image that results is something I'm very attracted to."
After several years manufacturing ink and paint for an art supplies company in Seattle, Gentry and his then-wife moved to Monmouth in 1994.
He wasn't doing much art when he arrived here. But the valley's hills, farms and other pastoral landscapes inspired him to start painting again, Gentry said.
He tried his hand at wood engraving -- a more delicate and expressive art than wood cuts -- and prints for the first time in 2001. It's become his passion since, he said.
"The image that results is clearly defined, stark and has a great deal of clarity," he said.
Gentry now lives in Independence. Much of his home is devoted to studio space. His garage doubles as a fabrication shop for his block canvases; they're expensive to purchase otherwise, he said.
Gentry said it takes a week or two to engrave the block -- which is about the height and length of a magazine. Tone, depth and texture are determined by the lines cut into the block, so the final print involves a bit of guess work.
"You're really not going to see what you've got with the engraving until you ink it," Gentry said.
Gentry's pieces have appeared in juried art shows. While he's been commissioned on occasion, most of his prints he sells himself.
"I don't have any designs about being a famous modern artist," he said. "I've just had some success with this stuff ... and I can walk into a gallery and not be shaking in my boots."