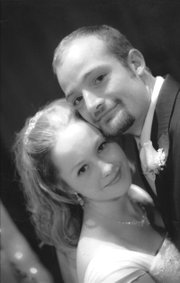 Cabe-Desirey
Kayla Marie Dawn Cabe of West Salem and Mike H. Desirey II of West Salem were married April 3 at Salt Creek Baptist Church in Dallas.
Pastor Gerald Scheel officiated the ceremony.
The bride is the daughter of Artie Cabe and Edwin Hazen of Independence, and Martin Hoekstre of Dallas. The groom is the son of Mike and Dovie Desirey of Dallas.
Maid of honor was Ashley Stites-Bault. Bridesmaids were Stacie Carter-Walker and Christie Nienhouse. Flower girl was Alexandria Cavan.
Best man was Robbie Perlich. Groomsmen were Mike Desirey and Michael Hazen. Ushers were Scott Zentz, Austin Zentz, Skye Bault and Mark Stephens. Ring bearer was Dennis Jackson III.
Kayla, a 2008 graduate of Dallas High School, is a full-time student at Chemeketa Community College. Mike attended Dallas High School and earned his GED. He is a full-time student at Chemeketa and works as a framer during the summer.
The newlyweds honeymooned in San Francisco. They make their home in West Salem.