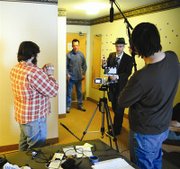 DALLAS -- Dallas resident Chris Mann has long wanted to put zombies on screen. Over the last month that dream is becoming animated reality.
"I've always wanted to make this," Mann, 26, said of his film "Chris and Dawn in a Zombie Movie."
The movie is Mann's first feature and will use a technique called rotoscoping, in which live actors are filmed and animation is layered over them. The process eliminates the need for a set, as the background will be added later, and allows actors to play multiple characters. Mann is the film's writer, producer, director and one of the lead characters, Chris.
An initial two-day shoot took place at the Best Western Dallas Inn on April 17-18. Another shoot will be scheduled later.
Mann, who produced short films while at Dallas High School, said his inspiration was the six-film "Living Dead" series. The script's first version mimicked those story lines.
After several revisions, the final version seems more closely related to "Shaun of the Dead" than "Night of the Living Dead." Zombie movie that it is, there is plenty of violence, swearing and crude humor.
But it doesn't take itself too seriously.
Actor Gerry Birnbach, who plays "Dave," the reasonable sidekick to hothead Chris, and several other characters, said he likes the tongue-in-cheek nature to the script.
"I like that there are several lines in the film directed at the camera," he said. "It's like you are poking fun at yourself."
Birnbach, who recently moved to Newberg after spending two decades in New York, said he found the story outrageous - in a good way.
"Even for a zombie movie, it's pretty out there," he said.
Josh Frazier, an actor from Albany who plays two characters, adds to the over-the-top quality by playing "The Man," a seemingly stern character based on the script, with a lisping, effeminate flare.
"Zombie Movie," unlike others, doesn't have an explanation as to why the small town in the movie is suddenly crawling with the undead. Mann said that was a purposeful omission.
"I've never liked any explanation I've seen," he said. "It doesn't ruin the movie, but it just gives it a different feel when there is an explanation."
Instead of dwelling on why zombies have invaded, Mann launched his characters almost immediately into the inevitable timeline: encounter a moving corpse, hide from the ever-increasing horde of flesh-eating monsters, get discovered, fight, run away, and repeat. That cycle continues until the ending, an ending which sets Mann's movie apart from similar movies.
"Zombie Movie" will remain in production for several more weeks. Mann is working on a distribution deal for independent artists. He hopes the fun he had writing the script will translate to the screen.
"I think it will be one of those movies people really like to watch repeatedly," Mann said.
For more information on Chris Mann and the movie, go to: www.cattmanndoo.com.