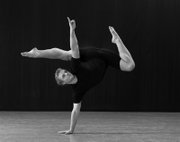 MONMOUTH -- Dancers, students and professionals will take the stage at Rice Auditorium May 6-8 for Western Oregon University's annual Spring Dance Concert.
The event will offer a mix of dance styles from modern to ballet -- and feature new choreographed pieces.
"I've been here 18 years, and every year it's gotten better," said Deborah Jones, dance professor and concert director.
About 60 dance students -- who went through auditions last fall -- will be participating in 11 distinct pieces, created by students or faculty.
"Watching where they started to where they get to is really incredible," Jones said.
The special guest artist for this year's production is Jacob Mora of Denver, director of the urban dance company Moraporvida Contemporary Dance
.
A faculty member with the New York Institute of Dance and the University of Wyoming, Mora teaches contemporary techniques borrowed from hip hop, jazz and other genres. Mora will lead a piece for the concert called "Before Angels."
Daryl Thomas and Valerie Bergman, artistic directors of the renowned -- and Monmouth-based -- Rainbow Dance Theatre company will "Melt," a performance featuring visual elements and fiber-optic costuming.
Jones said this year marks the 10th anniversary of WOU establishing its own dance major, and will be attended by program alumni.
Besides the University of Oregon, Western is the only public university in the state to offer a bachelor's degree in dance.
Spring Dance
What:
Western Oregon University Spring Dance Concert.
When:
Thursday, May 6, Friday, May 7, and Saturday, May 8. All shows begin at 7:30 p.m.
Where:
Rice Auditorium, Western Oregon University, Monmouth.
Admission:
Adults, $12; seniors, $10; students, $7.
For tickets and more information:
WOU Box Office, 503-838-8462.