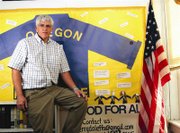 PERRYDALE -- This may come as a surprise, but Perrydale FFA advisor Kirk Hutchinson never belonged to an FFA chapter.
While his family owned a five-acre farm in Portland, where he learned to care for animals and tend to other farm chores, Hutchinson attended a high school four miles from downtown Portland. There was no FFA program.
But his agricultural experience stuck with him. Now, he is the advisor for one of the most successful FFA chapters in the nation when it comes to community service.
The proof is on the wall in Hutchinson's Perrydale High School classroom, where an ever-increasing number of plaques testify to Perrydale's outstanding community service dating back to the 1980s.
There are many, many awards for this ambitious program, but perhaps a better measure for this service-minded chapter, and its dynamic advisor, are the numerous "thank you" notes grateful people have sent over the years.
"It's not really about the awards," Hutchinson said. "It's about what we do for the community."
You only need to count the pounds of food collected in its Food For All drive over the years (about 844,000) or the number of hours spend doing community service last year (about 11,000) to see what Perrydale FFA has done for the community.
Perrydale did win the national "Best Community Service Project Award" for Food For All in 2002, the year when they collected 60,000 pounds. Food For All has only gotten bigger since then, with the record set last year at 211,000 pounds collected.
Pulling off such a feat doesn't happen overnight and certainly not without help. Hutchinson, also know as "Hutch" to his students, is the first to point out that Food For All, or any project, wouldn't be possible without the farmers who donate the food, the other schools who help collect it, the food banks that distribute it, and the students -- pretty much the entire school -- who lend a hand to pack it into boxes.
Others know the crucial component is Hutchinson himself.
"He's willing to work with the kids and spend time with them," said Mike Stebbins, the executive secretary of Oregon FFA. "That's what it takes to make a program."
Hutchinson, 56, started working at Perrydale in 1984, teaching
agriculture, shop, science and taking over an FFA chapter that had been revived the year before.
Hutchinson's responsibilities don't stop with agriculture and FFA. He is also the coach of the track and field team and volunteers to keep football statistics at every game, whether at home or away.
"I don't know how he finds the time to do everything," Perrydale Superintendent Robin Stoutt said. "But he does."
Of all his roles, it is the FFA program that is the most visible of Hutchinson's many duties at the school.
The program he designed from that modest start 26 years ago developed into a unique educational opportunity at Perrydale.
"It provides a different way for kids to learn and to excel than the normal classroom activities," Hutchinson said.
Perrydale senior Jesse Collins used himself as an example.
Collins said he does well in agricultural classes, so much so that he earned his FFA State Degree earlier this year. In other classes, he doesn't have that level of confidence. He said FFA and agricultural classes engage his interest and gives him opportunities to learn and serve.
"It pushes you to feel comfortable with whatever life throws at you," he said.
Stoutt said that Hutchinson's brand of teaching, either in the classroom or in the field, reaches students of all achievement levels and ages. She added his enthusiasm for student success and community service is irreplaceable.
"Traditions that he has started and maintained would be hard to keep up with," she said.
The same could be said of Hutchinson himself.
During school hours, his classroom might as well have a revolving door. The small room adjacent to the school's shop is slightly cluttered and with no immediately apparent system of organization, outside of the filing cabinets that hold paperwork from Perrydale FFA projects past. Students stream in and out of the class, asking about assignments or projects. Sometimes the noise level is so high Hutchinson has to take advantage of his tall frame to stand and project booming instructions over the din. Hutchinson seems at home with the noise and constant activity. That is the nature of the hands-on FFA program.
Students take on varying roles and responsibilities, but Hutchinson's overarching goal is to nurture natural abilities and find new talents in his pupils.
"Every student is different and deserves the best chance at an education as they can get," he said.
Senior Ryan Brooks said FFA constantly puts the students in situations where they have to perform and not just in the classroom -- it's real world experience.
Hutchinson uses more than gentle pressure -- even to the point of "volunteering" students for projects -- to make his students leave their comfort zone.
"He pushes you to do things, things you don't think you can do," Brooks said.
Stebbins, who has known Hutchinson for decades, said that philosophy has developed a chapter that has become a model for other programs in Oregon.
"There's a program that exemplifies community service in the state," Stebbins said.
When not at school, Hutch finds time to:
* Search for inspiration in books, especially biographies from which he takes hints at how to live a productive life. "Tuesdays with Morrie" is one of his favorites.
* Take a trip. In fact on of his goals during college was to find a way to be a professional tourist. That didn't quite work out, but he has taken numerous trips with Perrydale FFA to national conventions. The schedules of those excursions are packed with visits to museums, service opportunities and other educational experiences.
* Enjoy sports, especially rowing, which he competed in while attending Oregon State University and later coached at OSU.
* Do more community service. Hutchinson has made trips to the Gulf Coast to help rebuild communities damaged by Hurricane Katrina.
--Jolene Guzman