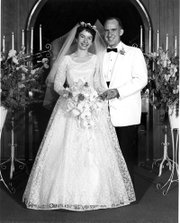 Gardner -- 50th
Kenneth and Mary Lou Gardner of Dallas will celebrate their 50th wedding anniversary this month with a cruise this summer.
The couple's children will also host an anniversary potluck barbecue in June at the home of the couple's daughter, Nancy, for family and friends.
Kenneth Gardner and Mary Lou Chambers were married May 21, 1960, at First Christian Church in Dallas. Phil Wolfe officiated the ceremony. Maid of honor was Freda Barendrecht. Best man was Del Tilgner.
Ken and Mary Lou have resided in Polk County their entire married lives.
Ken is a farmer. Mary Lou is retired after a career as a telephone operator, florist and caterer. The couple operate the Gardner Farms produce stands.
The Gardners are members of Eastern Star and Shriners. They enjoy attending local sporting events, family gatherings, spending time on the Oregon Coast, and vacationing in Maui, Hawaii.
Ken and Mary Lou have been active in numerous civic organizations and have volunteered for a variety of local committees over the years.
The couple's family includes Nancy Gray of Dallas and Jim Gardner of Dallas. They have five grandchildren.
More like this story