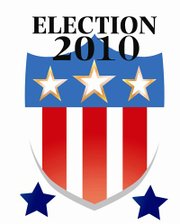 POLK COUNTY -- Craig Pope is leading in what has turned into a nail-biter race for the Republican nomination for Polk County Commissioner Position No. 2
Danny Jaffer has won the Democratic nomination for Position No. 2 by a more comfortable margin.
According to the Polk County Clerk's Office unofficial final election results for the May 18 vote-by-mail primary, Craig Pope of Monmouth is leading with 2,314 votes, or 32 percent. Dave Weston of Dallas is a close second with 2,256 or 31 percent -- a margin of 58 votes. Mark Adams has received 1,951 votes and Steve Bailey has 789.
Danny Jaffer is leading with 3,028 votes, or 59 percent, while opponent Michele Campione trails with 2,013 votes, 39 percent.
As of Wednesday morning, the Clerk's Office was still in the process of counting ballots.
Weston had been leading by a slim margin in initial count results on election night, but Pope took the lead as more ballots were processed throughout the evening.
Pope said he was surprised to see the lead change throughout the evening and that the race was so close. Pope said after seeing initial results Tuesday night and subsequent reports, he was preparing himself for defeat.
He wasn't aware he had taken the lead until Wednesday morning.
"I'm cautiously delighted," he said Wednesday.
Pope believes the close race is a credit to all candidates running energetic campaigns. He also noted that the results were encouraging given that he spent less money on his campaign that his opponents did.
"I'm quite pleased I didn't have to spend as much as they did to get to where I am," Pope said.
Danny Jaffer found out about the election results when a friend called to congratulate him about 10 minutes after 8 p.m. Tuesday. He learned then that he had about 60 percent of the vote, a margin that held throughout the night.
Jaffer said Wednesday that he is pleased with the results.
"I really appreciate the support I have gotten and look forward to the fall campaign," he said.
He also commended Campione on a good race and said he hopes to see her involved in the future.
With the Republican nomination race so close, Jaffer didn't want to speculate about his opposition in the November election.
"I will run a good, strong race against anybody who is my opponent," he said.
Democrat incumbent Ron Dodge and Republican Mike Ainsworth were each unopposed for Position 3 in the May primary. They will face off in November.