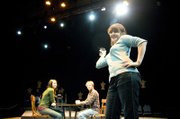 MONMOUTH -- It would be easy to glance at the synopsis of Western Oregon University's upcoming production of "How I Learned to Drive," raise an eyebrow and squirm at the subject matter -- which includes pedophilia, misogyny and incest.
Author Paula Vogel wrote in 1997 this Pulitzer-prize winning play based upon her own personal experiences.
"It's definitely delicate," said WOU professor and director Ted deChatelet. "But it's handled in such a poignant and funny way ... I think it will be well received."
WOU's theater and dance department will begin a four-day run of "How I Learned to Drive" beginning today (Wednesday, May 26) through Saturday at Rice Auditorium.
The message of the production is a fairly universal one, deChatelet said.
"We go through things that are complicated and they shape us," he said. "This play is good in that it doesn't condemn and doesn't celebrate, it just acknowledges.
"It's part of what makes us who we are."
The piece focuses on "Lil' Bit," a young girl growing up in rural Maryland during the 1960s with a large, dysfunctional family.
Her "Uncle Peck" is a recovering alcoholic who takes a sexual interest in Lil' Bit and molests while teaching her to drive.
As the child grows older and excels in school, Uncle Peck is the only family member who is kind and supportive of her. The abuse continues, but the driving lessons empower her.
deChatelet said he first saw the play a decade ago, and pitched it when the university was putting together the 2009-10 theater schedule.
It's a relatively lean production, with 13 speaking parts. The girl and her uncle are played by Lena Stepp and Colton Ruscheinsky. A Greek chorus rounds out the cast.
Selecting his leads was difficult, as they would carry the play, deChatelet said.
"But these are young actors who are eager to flex there muscles," he said. "The roles are the kinds of roles actors drool over."
Stepp, a sophomore, said she fell in love with the play after reading it and decided to audition. This will be her first main-stage lead.
The subject matter does make it "tougher than normal" to get into character, she said.
"You have to put yourself in her shoes," she said. "You have to fool yourself into believing that the relationship between the two is OK."
But Stepp said she doesn't see "How I Learned to Drive" as tragic.
"It's somebody saying, `I don't have to be the victim,'" she said. "It's saying, `I can find the good in this, and still like who I am, because of or in spite of what's happened.'"
On Stage
What:
Western Oregon University's Theater and Dance Department present "How I Learned to Drive."
When:
Wednesday, May 26, through Saturday, May 29. All performances begin at 7:30 p.m., except for an additional midnight show on Friday, May 28.
Where:
Rice Auditorium, Western Oregon University, 345 N. Monmouth Ave., Monmouth.
Admission:
Tickets can be purchased at the Rice box office or by calling 503-838-8462. Cost is $7 for students, $10 for seniors and $12 for general admission.