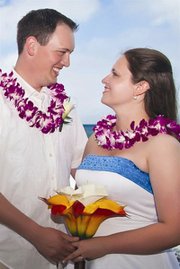 Jenkins-Case
Amanda Jenkins of Tigard and James Case of Tigard were married Oct. 10 on the beach at Maui, Hawaii.
The bride is the daughter of Greg and Mavis Jenkins of Rickreall. The groom is the son of Sherman and Mary Case of Tigard.
The Rev. Dennis DeRego officiated the ceremony.
Maid of honor was Alyssa Glynn. Bridesmaids were Brooke Jenkins, Heather Jenkins and Marit Case. Flower girl was Ashley Williams.
Best man was Sherman Case. Groomsmen were Brian Jenkins, Chet Jenkins and Daniel Jenkins.
Amanda, a 1999 graduate of Dallas High School and 2003 graduate of Arizona State University, is Internet director for Landmark Ford Lincoln Mercury in Tigard.
James, a 2003 graduate of Tigard High School, is a service adviser for Landmark Ford Lincoln Mercury.
The newlyweds honeymooned in Maui. They make their home in Tigard.
More like this story