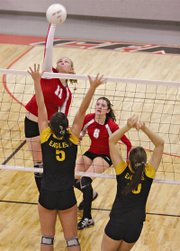 INDEPENDENCE -- Central's volleyball team pulled off a huge upset Nov. 6, claiming a 15-25, 25-23, 29-27, 18-25, 15-10 Class 4A playoff victory at North Bend.
The Lady Panthers advance to the state final site with the win and will face Banks at 3:15 p.m. Friday, Nov. 12 at Lane Community College.
Central (11-11 overall) came into the North Bend match seeded seventh of the eight teams on its side of the bracket. North Bend (17-6) won the Far West Oregon Conference and was seeded No. 2.
"The girls played a great match," Central coach Claudine Mendazona said. "The girls were excited for the match. There were some nerves. We hadn't seen them play before. We didn't have a lot of knowledge about what they were going to do. The start was pretty nervy for them."
Indeed, there was little or no sign in the first game that the Lady Panthers had greatness in them on this night.
"We were pretty tentative in the beginning," Mendazona said. "We weren't playing aggressive. We had several hitting errors right off the bat. Sometimes it takes us that first game to get with the program. We had to quit being defensive and start putting some balls down on the other side. We had to make the other team get out of their system."
Central did just that, winning tight struggles in games two and three. North Bend took game four and game five was back-and-forth for the most part. The Lady Panthers were able TO pull away at the end.
"The fifth game was neck-and-neck," Mendazona said. "But as soon as we got past 10, they let their guard down. They already were starting to cry. It was like they gave up early. My girls took advantage of that.
"North Bend had a really good team. On that day, our team played better."
No one played better than Central setter Emily Kenyon, who finished with 31 assists, 17 digs and 13 kills.
"Emily set extremely well," Mendazona said. "The refereeing is going to be a little tighter from here on out. We talked to her about that. After that, she started attacking the ball."
Shallyn Lewis posted a team-high 14 kills for the Lady Panthers. Allison Bansen has a strong all-around match, and Liz Olson and Hannah Riddell served well.
Central played host to Banks during the regular season and earned a 25-22, 7-25, 25-22, 25-23 win.
The Central-Banks winner advances to the championship semifinals Friday at 8:30 p.m. The loser drops to the consolation bracket at 10 a.m. on Saturday, Nov. 13.
"We played Banks before, and we beat them," Mendazona said. "We need to win this game. We're both improved teams. It should make for a good match."