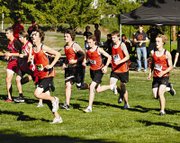 DALLAS -- Dallas hosted its lone cross country meet of the season Oct. 6 at Dallas City Park.
Dallas senior Brit Schei helped make the event even more memorable by taking first place on the 5,000-meter course with a time of 20 minutes, 57 seconds. The performance helped the Dallas girls sweep the team competition against visiting Silverton, Woodburn and Lebanon.
"That was her first win of the season," Dallas coach Monique Lankheet said of Schei, a foreign exchange student from Norway. "That was fun. She ran about 35 seconds off her (personal record). The course wasn't really all that fast. It was kind of squishy from all the rain we've had. But Brit ran well. She was very competitive."
Brenda Uribes of Dallas finished third in 21:46 and freshman Carleen Fall was fourth in 21:51.
Other finishers for the Lady Dragons were Anne Barrientos (ninth, 23:11), Miranda Shockey (11th, 23:41) and Delaney Pape (17th, 25:52).
Mary Kate McGuire missed the meet because she was playing soccer for Dallas in the 1-0 win against Lebanon.
Dallas' boys employed an unusual strategy, running together as a pack for about the first two-thirds of the race. That led to some changes in the usual order of finish. Instead of Alex Bird and Clay Stuhr leading the way, this time it was Ethan Noll, who finished third overall in 17:54.
Bird placed fifth in 17:59, and Stuhr ran an 18:02 for eighth place. Brandon Christenson was 13th in 18:28. Tyler Lonsford ran a 19:10 and finished 15th, and Tristan Wheeler was 19th in 19:47.
Dallas' boys beat Silverton and Lebanon but lost to Woodburn.
"Things went really well," Lankheet said. "The girls competed really well. We beat every team we competed against. That was fun. With the boys team I wanted to kind of help our 4-5-6-7 runners, try to develop them a little bit. All of them ran together until about the last mile. It was a good strategy for that meet. We won't have them run that away again. They sacrificed their performance for the team. I felt kind of bad about having them do it here because it was our one home meet."