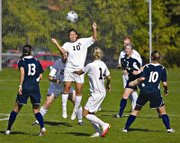 MONMOUTH -- Central Washington claimed sole possession of second place in the Great Northwest Athletic Conference football race Oct. 16 with a 19-0 defeat of Western Oregon.
The game was played in Seattle at Qwest Field, home of the National Football League's Seattle Seahawks.
Western (4-3 overall, 3-2 GNAC) managed just 98 yards total offense against Central (5-3, 4-1). The Wolves were averaging more than 250 passing yards per game entering the contest.
"I thought their defense did really well," Western coach Arne Ferguson said. "We knew they were going to be good. Their front seven did not surprise us. I was disappointed offensively. We have to find a way to move the chains."
Central built a 12-0 lead thanks in part to two first-quarter turnovers by the Wolves.
The lead mushroomed to 19-0 early in the third period, and that was the end of the scoring.
Scotland Foss led the Wolves with 12 tackles. Sherman Vercher and Gerritt Vincent each added seven stops, and D'Andre Spencer intercepted a pass.
Western quarterbacks A.J. Robinson and Evan Mozzochi combined to complete 12 of 27 passes. The two were sacked a total of seven times.
Western had not been shut out since a 49-0 loss at Western Washington in 2004.
The Wolves will host Azusa Pacific Saturday, Oct. 23 for their annual homecoming game. Kickoff is at 2 p.m.
WOMEN'S SOCCER
Western Washington's Molly Shannon scored the game's only goal in the 28th minute Oct. 16, helping the Vikings to a 1-0 victory at Western.
"We don't get intimidated by a team like this," said Western coach Rod Fretz. "We can compete with anybody, and this game proved it."
Fretz was pleased with the play of defenders Naomi Shimabuku, Rebecca Holland, Danielle Hayward and Monique Thees.
WOU goalkeeper Brittney Rigtrup matched a career-high by blocking 10 WWU shots. Western's Marina Austin had four shots during the game and is now second in the GNAC shots with 32 total shots.
The Wolves next will play at Northwest Nazarene on Thursday, Oct. 21.
VOLLEYBALL
Western's Corynn Kopra had 11 kills and Nikki Conley added a double-double Oct. 16 in a 23-25, 25-14, 25-13, 25-11 win against visiting Simon Fraser.
Kopra, one of five freshmen starters for the Wolves, set a new career high with her 11 kills. Conley registered 20 assists and 12 digs, and Katie Bashaw added seven digs. Samantha Ward had nine kills, and Krissi Kemper and Becky Blees finished with seven apiece.
"It was great seeing the young kids out there," said Western coach Brad Saindon. "Corynn was terrific. She is a very good volleyball player. I wanted to get her some work and get her some experience because down the stretch she could be a really key player for us."
Western will play at Montana State Billings Thursday, Oct. 21.
CROSS COUNTRY
Chris Reed finished second individually and helped the Western Oregon men finish second as a team Oct. 16 at the Mike Hodges Invitational in Oregon City.
Reed ran the four-mile course in 19 minutes, 58.03 seconds.
Other top finishers for the Wolves were Conner Kasler (fifth place, 20:18.77), Josh Elliott (sixth, 20:20.11), Justin Karr (13th, 20:36.87) and Ryan Chapman (15th, 20:45.15).
Western women's team competed with a skeleton squad but still managed to finish eighth.
Annan Applebee led Western by taking 25th place on the 5,000-meter course in 19:27.38.
Other top WOU finishers were Meryl Butcher (46th, 20:20.37), Zoe Skordahl (66th, 20:49.25), Amanda Lee (78th, 21:13.54) and April Batchelor (80th, 21:17.01).