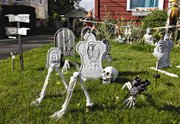 DALLAS -- Debbe von Blumenstein loves celebrating holidays. Her neighbors watch her Levens Street house for her seasonal lawn decorations with every passing season.
"Anything to celebrate," von Blumenstein said with a smile. "That's what life is about."
Of all holidays, Halloween has a special place in von Blumenstein's heart.
"It's probably one of my favorites," she said. "You still can (dress up) as an adult and get away with it."
At less than 5-feet tall, von Blumenstein said she went trick-or-treating when she was in college.
This year, the Dallas attorney will dress up as Carmen Miranda -- as in Miranda rights -- but she doesn't stop with a costume.
For the last two years, she has turned her Dallas frontyard into a graveyard with spooky lights and gravestones. She has decorations from the merry -- cute little ghosts -- to the macabre -- a bistro table set with poison drinks and what looks like a liver well past its due date.
von Blumenstein said she devoted an afternoon and several trips to the store for more lights and decor to get the display ready by Oct. 1.
"I didn't want to miss a single day of October," she said.
On Halloween night last year, von Blumenstein added herself to the display, dressed as a ghoul handing out candy to trick-or-treaters.
"The teenagers loved it," she said. "But little kids were a bit apprehensive."
She said in addition to handing out candy on Halloween, she will be part of the Dallas Area Chamber of Commerce's community trick-or-treating event on Oct. 29 at Morrison Campus Alternative School. von Blumenstein, who at age 49 started competing in triathlons, said making a big deal out of the holidays such as Halloween keeps her young.
So far, she said the reaction to her spirited decor has been positive and she hasn't had much trouble with mischief of the criminal sort.
"People have been pretty respectful," von Blumenstein said. "One thing has gone missing this year, but I don't let that spoil my fun."
She said she has seen kids flying by her house on their bikes come to a dead stop to admire her "haunted lawn."
"It's really fun," she said. "People just really enjoy it."