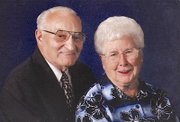 Hansen -- 70th
John and Ruth Hansen of Dallas celebrated their 70th wedding anniversary on an Alaskan cruise in late August with a group of fellow residents of Dallas Retirement Village.
N. John Hansen and Ruth Plummer were married on Sept. 21, 1940 at Dallas Presbyterian Church.
The couple moved to Dallas in 1949, having previously resided in Salem and Albany.
John worked in the agriculture field for many years, highlighted when he retired from Oregon State Extension Service following 25 years as chairman of Polk County Extension Service. Following retirement, he served on several agricultural agencies and boards.
Ruth continues her homemaking. She retired in 1983 from Family Federal Savings and Loan in Dallas.
The Hansens organized and escorted agricultural study tours to six continents. These tours, and their private travel, has allowed them to visit 70 countries worldwide during the past 40 years.
Their family includes Tom and Barbara Hansen of Dallas and Jim and Gail Hansen of Anchorage, Alaska. The couple has three grandchildren and two great-grandchildren.