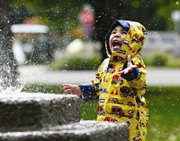 Master Gardener
honored for work
Polk County Master Gardener Don Erickson was one of 33 individuals recently recognized for their volunteer efforts by the Oregon Master Gardener Association.
Erickson was named the Polk County Master Gardener of the Year.
A master gardener for six years, Erickson planted the demonstration orchard and grape vines at the Polk County Fairgrounds. He is a major contributor to the yearly plant sale and has also been a mentor to new master gardeners.
The awards are sponsored by the Oregon Master Gardener Association in cooperation with OSU Extension's Master Gardener program.
Garden Club will
meet in Falls City
The Falls City Garden Club will resume monthly meetings starting at 7 p.m. on Thursday, Sept. 23, at Mountain Gospel Church, 257 N. Main St., Falls City.
Club members Lilli and Horst Boettcher will make a pictorial presentation of a recent trip to Norway where the couple took pictures of the flowers native to Norway and Germany.
Refreshments will follow the presentation and a short business meeting.
For more information: Nigel Page, 503-787-4501; Gladys Norman, 503-787-6105.
Senior 'music jam'
is set to continue
After a break for summer, Dallas Area Seniors will resume their monthly "senior music jam sessions" starting Thursday, Sept. 23, at 6:30 p.m.
Area singers and musicians of all ages are welcome to come and perform. Acoustic and low-amplification instruments and vocals are preferred. Listeners are always welcome.
The music jam is held at the Dallas Senior Center, 955 SE Jefferson St., Dallas. Admission is free, but donations and contributions of snacks and refreshments to share are welcome. The music jams are held on the fourth Thursday of most months.
For more information: Michele Campione, 503-623-5055.
Parenting program
begins on Thursday
A "Decisive Parenting: Powerful Tools for Parents of Teens" class will be offered Thursdays from Sept. 23 to Oct. 28 at The Academy Building, 182 SW Academy St., Dallas.
The free six-week program is designed specifically for parents who are struggling with their teenagers over issues of truancy, drug and alcohol use, homework, chores, sexual activity, choice of friends and arguing.
Classes are led by Dr. Michael Hammond from 6:30 to 8 p.m. in Room 214. Preregistration is recommended as the class is limited to 30 participants.
An optional parent's manual is available for $35.
To register or for more information: Polk County Juvenile Department, 503-623-2349.
Weekend book sale
scheduled at library
Friends of the Independence Public Library will host its annual used book sale during the Hop & Heritage Festival.
The event will take place Friday, Sept. 24, and Saturday, Sept. 25, from 10 a.m. to 4 p.m. at 311 Monmouth St., the site of the old city library.
A large collection of vinyl records and books of all genres, from fantasy and westerns to coffee table books, will be available for sale.
Hardbacks cost $1 and paperbacks 50 cents. Encyclopedias will be given away for free.
Proceeds go toward special programs, supplies and activities at the Independence library.
For more information: Betty Plude, 503-838-4039; Independence Public Library, 503-838-1811.
Dallas Seniors will
serve up breakfast
Dallas Area Seniors will host another of its breakfast fundraisers Saturday, Sept. 25, from 8:30 to 11 a.m. at the Dallas Senior Center, 955 SE Jefferson St.
The public is welcome to the meal that features a variety of breakfast items, coffee, juice and fruit. Cost is $5.
Proceeds benefit the Dallas Senior Center, its efforts to build a new center, and efforts to raise funds to meet the matching fund of $25,000 offered in memory of the late DAS President Candy Thommen. The deadline for the match has been extended to Sept. 30.
For more information: 503-623-8554.
Dancing Oaks sets
casting workshop
Dancing Oaks Nursery southwest of Monmouth is offering a concrete leaf casting workshop Saturday, Sept. 25, from 10 a.m. to 12:30 p.m.
Participants will learn the techniques to create their own concrete garden sculptures from leaves. Cost is $35 and all materials are provided. Preregistration is required for the class at 17900 Priem Road.
For more information: 503-838-6058; www.dancingoaks.com; e-mail to dancingoaksnursery@gmail.com.
Dallas music studio
to mark milestone
Gene Hall Music Studios will celebrate its 30th business anniversary Saturday, Sept. 25, with a gathering from 2 to 5 p.m. at The Majestic, 976 Main St., Dallas.
Owners Gene and Carolyn Hall invite those attending to bring their musical instruments and stories to share. Desserts will be served.
The retail store at 970 Main St. also offers musical instruction, instrument rentals, recordings and performances for any occasion.
For more information: 503-838-3831.
Theater fundraiser
aids Relay For Life
Moonfall Theatre presents "Mixin' it at Moonfall," a 20th anniversary celebration performance to benefit the America Cancer Society's Relay For Life of Polk County Saturday, Sept. 25.
Hors d'oeuvres will be served at 6:30 p.m., with the performance starting at 7:20 p.m. Deserts will be available at intermission. Wine will be available before the show and during intermission.
Tickets are $20 and the event is for adults. Proceeds benefit Relay For Life of Polk County.
For tickets and more information: Kay Graven, 503-623-5495; e-mail to gkr@q.com.
Hospital auxiliary
plans fundraiser
West Valley Hospital Auxiliary is hosting a designer jewelry and handbag sale Wednesday, Sept. 29, from 7:30 a.m. to 3:30 p.m.
The sale will be held in the conference room, by the front hospital lobby, located at 525 SE Washington St., Dallas. It will feature the Miche Bag line of designer handbags as well as Cookie Lee jewelry.
Twenty percent of the sale proceeds benefit the West Valley Hospital Auxiliary's Scholarship Fund.
For more information: Pat Cozad, 503-623-7323.
Flea market seeks
vendors for event
Vendor space is available for the Rickreall Grange Flea Market, scheduled Saturday and Sunday, Oct. 2-3, at 280 Main St. (Highway 99W) in Rickreall.
Sale hours are 9 a.m. to 4 p.m. both days.
For information on vendor space: Tom, 503-606-0398.
Humane Society
benefit on tap
Tickets are now on sale for Bowser's Boo Bash, Willamette Humane Society's annual dinner and auction fundraiser scheduled Saturday, Oct. 16.
The event begins at 5 p.m. at the Salem Conference Center and includes a gourmet dinner, drinks, live entertainment, and a silent and oral auction.
Tickets are $60 per person through Oct. 1; $70 thereafter. Proceeds assist the Willamette Humane Society, which serves Polk and Marion counties, in providing care and temporary shelter for more than 10,000 animals annually and help with placement efforts.
For more information: 503-585-5900, ext. 304; www.WillametteHumane.org.