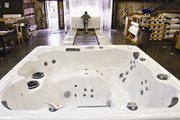 INDEPENDENCE -- The company's goal might be customer relaxation, but there's little in the way of idle hands inside Marquis Spas' manufacturing plant in Independence on this morning.
In one corner of the 60,000-square-foot facility, a worker inserts a thin, wide sheet of acrylic into a thermo-form machine, cooking, then draping the material over the mold of a hot tub.
Elsewhere, workers construct fiberglass and resin shells that will serve as the spas' reinforced backing. Others
install hoses and fittings or build frames and cabinets.
And in the all-important "test area," a technician uses a cylinder to peer at the bottom of a churning-tub, making certain every jet is functioning before the unit is wrapped up and shipped.
"Nobody gets in it," assures Sam Collins, senior vice president, quickly adding with a laugh, "at least we haven't in a few years."
Collins started in Marquis' equipment shop, assembling electronic components back in 1986. Since then, he's held nearly every job in the factory.
"It was fun then," he said. "It's still fun."
Marquis Spas is celebrating its 30th anniversary this month, still cranking out hot tubs from its original building off Hoffman Road.
"It makes us feel older, but we're proud to still be here," said John Schrenk, Marquis president.
"In the past few years, the economy has hurt business," Schrenk added. "But we've adjusted ... the market will be back and we'll be ready for it."
The brainchild of a contingent of local residents, the company now has distributors for its products across the United States, Canada and even Europe.
Not bad for an outfit that built its first tubs in a barn.
--
In early 1980, fathers and sons Gary and David Radke and Terry and Troy Werline were laid off by a now-defunct Salem spa-maker.
They set out to use their expertise to form their own company, ERW Enterprises, with David Radke's cousin, Mel Edigar.
Edigar, 79, of Dallas had been trying to sell his farm at the time. Instead, he offered his operation in Independence as equity for financing and his machine shop as a manufacturing plant.
"We hired some other people we knew, and had a dozen people working," Edigar said. "We were doing it by the `onesies' and `twosies' ... and it was a different process, spraying a gel coating on a mold.
The business moved to Independence's industrial park a few months later and incorporated as Pacific Spas, later becoming Pacific Marquis in 1984.
Edigar said he worried about its survival, given the recession at the time. Still, there was an appetite for hot tubs. With the industry transition from spas built into the ground or decks to self-contained portables, the company grew quickly.
"I guess it was the right time to go into it," Edigar said.
The company opened plants in Colorado and Pennsylvania in 1984, was acquired the following year by Wexco Inc. and renamed Marquis Spas. Soon, a dealer network began to spread across the United States.
All production returned to Independence in the mid-1990s. Marquis began making a name for itself for high-end spas and a patented small, but high-flow jet that could mimic passive and whole body massage when installed throughout a tub.
In 1999, Marquis Spas became employee owned. And in 2000, it was selling units in Norway, with other parts of Europe to follow.
"The stronger construction, longer warranty and high quality is what has set us apart in the marketplace," Schrenk said.
--
At its peak, Marquis employed nearly 360 workers, most of them from within the Willamette Valley.
The current economic crisis, however, has taken a toll on the spa industry in the last two years because of fewer housing starts, low home values and an "almost overnight disappearance of consumer financing," Schrenk said.
In late 2009, Marquis sales were nearly half of what 2006 levels were, two production shifts were scaled back to one, and several non-assembly staff were laid off, he said.
But business is recovering, with a boost in international sales, a rising popularity of its lower-priced spas and customers seeking out hot tubs for therapeutic purposes.
"We've carved out a niche and they're selling well," Schrenk said. "It's helped us and it's helping our dealers."
Schrenk, who's been with the company since 1983, said he remembers being impressed by spas featuring four or five jets. A high-end model now sports dozens of jets, water features, LED lights, a stereo system and even a DVD player.
But the craftsmanship hasn't changed.
Edigar, who retired from Marquis in 1991, still owns a spa constructed from the early days.
"We've switched out the equipment some, but the shell ... there's no cracks and it still functions."
Marquis Spas
By The Numbers:
2 -- Average number of days to fabricate and assemble a hot tub.
82 -- Number of jets in Marquis flagship model.
125 -- Number of production and nonproduction employees.
400 -- Number of spas donated by Marquis to cancer patients. through the Make-a-Wish Foundation.
500 -- Average number of feet of hose inside a hot tub.
250,000 -- Approximate number of tubs sold in three decades.