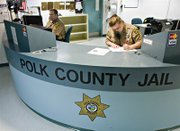 POLK COUNTY -- Two bills under consideration by the State Legislature in Salem would increase local-level responsibility for people convicted of crimes.
If Senate Bills 728 and 416 were to pass, more inmates would be housed in the Polk County Jail and the Community Corrections Department would have more offenders under its supervision.
Senate Bill 728 would increase the maximum allowable sentence an inmate can serve in county jails from one year to two.
Polk County Sheriff Bob Wolfe said if the legislation passes as written, it would create space and financial problems for the county.
"I would need 87 more beds in the county jail," Wolfe said, "beds that I don't have."
In terms of cost, it takes about $84 per inmate per day to house people in the jail. That average would go down slightly as the number of inmates in the jail climbs, but it would still cost more to house more. Wolfe said he would need to hire more jail deputies to run at full capacity. The jail is run now with three corrections officers and two control room technicians.
"I would need at least five (corrections officers) if I were running at capacity," Wolfe said.
Sen. Floyd Prozanski, the chairman of the Senate Judiciary Committee, said his committee has heard those concerns from local officials across the state.
Prozanski said the bill, a concept that came from former Gov. Ted Kulongoski's "Reset Cabinet," is more of a conversation starter. He said it's part of an effort to launch a wider debate on how to save money in the state prison system, while still maintaining public safety and the accountability of those who commit crimes.
He said the bill may have to go through significant changes to answer fiscal concerns.
However, Prozanski said part of the debate may still be finding ways to fill unused resources at the local level. He said there is an estimated 900 to 1,000 beds in jails throughout the state not being used. He said arrangements could be made with counties that have room in their jail facilities for more inmates to make that space available.
For example, Prozanski said the Lane County Jail has an entire floor that has been unused for decades.
"What we may try to do is create regional centers that could handle inmates from adjacent counties," he said.
He added that the length of time inmates could be kept in jails could still be examined, but for a period between 12 and 24 months, instead of pushing for the full two years the bill proposed when it was introduced.
Senate Bill 416 also will shift the burden from state prisons to local authorities, except the responsibility would be given to Community Corrections departments across the state. The bill would commute
what would now be prison sentences for low-level offenders convicted of drug or property crimes to "intensive supervision" through community corrections. That means people affected by the bill would be released and put under a high level of supervision by local parole and probation officers.
The goal is to eliminate the need for 500 prison beds per year, Prozanski said.
This bill, however, would provide counties funding to assure the availability of resources for high-level supervision.
Polk County Community Corrections Director Marty Silbernagel believes the impact to Polk County would be limited.
"Locally, it isn't going to be that significant," he said.
Across the state, however, as much as $10 million could be invested into the proposal, Silbernagel said.
Silbernagel said the proposal wouldn't necessarily change anything his department does, but these cases would require more attention, such as increased reporting and random drug screenings.
"They would not be supervised at a limited or low level," Silbernagel said.
He said the Oregon Association of Community Corrections Directors, for the most part, hasn't objected to the proposal.
"I have mixed feelings, but I believe that locking people up isn't always the sure answer," he said, noting in some cases supervision may be a better option for offenders.
Silbernagel said the proposal is more cost-effective than the alternative.
"It is a lot cheaper to supervise locally than sending them to prison," he added.
Both bills are scheduled for a Senate Judiciary Committee work session on Wednesday, April 20. from 8 to 10 a.m.