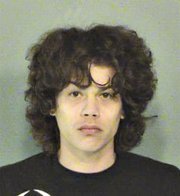 DALLAS -- Bryant C. McGee, the Dallas man accused of shooting a friend who later died, was arraigned on new charges in Polk County Circuit Court on Thursday, March 31.
A Polk County grand jury indicted McGee on charges of second-degree manslaughter and criminally negligent homicide, both class B felonies, and pointing a firearm at another, a misdemeanor, following the March 28 death of shooting victim Barry L. Vertner II, 21, at Salem Hospital.
The new indictment was filed on March 30.
Vertner, a Dallas resident, died six days after the shooting, which occurred in Dallas the night of March 22.
McGee, 21, entered not guilty pleas to all charges. Polk County Circuit Judge Fred Avera set the case to be assigned to a judge for trial. The judge assigned to the case will set McGee's next court date.
A previous charge of third-degree assault was dropped.
Police reports and court documents state the March 22 shooting occurred during an argument between McGee and Vertner in McGee's bedroom. Two handguns were on McGee's bed, one of which Vertner picked up and pointed at McGee during the course of the confrontation.
McGee picked up another handgun and pointed it back at Vertner. Both guns were loaded. McGee had second thoughts about his actions and began to retract the pistol. As McGee lowered the gun, however, it went off, striking Vertner in the face.
McGee, who immediately dropped the pistol and called 9-1-1, told police the shooting was accidental.
McGee remains at Polk County Jail, where he is being held on $350,000 bail.