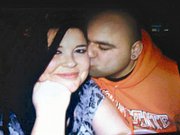 Bennett-Ceja
Cassie A. Bennett of Dallas and Javier D. Ceja Jr. of Dallas are planning a June wedding.
The bride-to-be is the daughter of Edward Bennett of Salem and the late Brenda Manker. Her fiance is the son of Javier Ceja Sr. and Tammi Lopes of Salem.
Cassie, a 2003 graduate of Dallas High School, graduated in 2005 from Phagans' School of Beauty in Salem.
Javier is a 1999 graduate of McNary High School in Keizer. He is employed at 7 Heavens Food Mart in Dallas.
The wedding is set for Saturday, June 25, at Salem Community of Christ Church.
More like this story