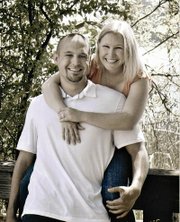 Wells-McGraw
Stacie Wells of Concord, Calif., and Christopher McGraw of Concord are planning a May 2012 wedding.
The bride-to-be is the daughter of Samuel and Cathy Wells of Dallas. Her fiance is the son of Ellis and Deborah Whitlow of Dallas and the late Kenneth McGraw.
Stacie, a 2002 graduate of Dallas High School, graduated in 2006 from Western Oregon University in Monmouth with a Bachelor of Arts in speech communications. She is currently a student at Saint Mary's College of California in Moraga, working on her masters degree in counseling. Stacie is employed as a community educator for STAND! For Families Free of Violence in Richmond, Calif.
Christopher, also a 2002 graduate of Dallas High School, received an Associate of Arts degree in criminal justice in 2008 from Lane Community College in Eugene. He is employed as an auto body estimator at Mike's Auto Body in Concord.
The wedding is set for Saturday, May 26, 2012, at the Historic Deepwood Estate in Salem.
More like this story