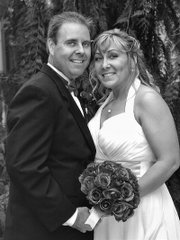 Kiggins-Patterson
Shannon J. Kiggins of Southlake, Texas, and Robert C. Patterson III of Southlake were married on June 18 at Spirit Mountain Casino in Grand Ronde.
The Rev. Steve Sharp officiated the ceremony.
The bride is the daughter of Violet and Jessie James of Benson, Ariz., and Robert and Cheryl Kiggins of Keller, Texas. The groom is the son of Robert and Geraldine Patterson of Independence.
Maid of honor was Shelly Grant. Bridesmaids were Shannon Ricketts, Starla Colwell and Jessica Ricketts.
Best man was Brent Ohren. Groomsmen were David Ricketts and Eric Baker. Ring bearer was Joshua Ricketts.
Shannon, a 1989 graduate of Central High School in Independence, graduated in 1991 from the College of Legal Arts with a legal secretarial certificate. She is employed as a project manager at Wireless Facilities Inc. in Southlake.
Robert, also a 1989 graduate of Central High School, attended Chemeketa Community College in Salem and received a certificate in general occupational studies in 1991. He is employed as a parts specialist at O'Reilly Auto Parts in Southlake.
The newlyweds honeymooned at the Oregon Coast. They make their home in Southlake.
More like this story