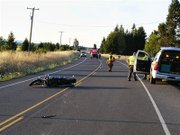 DALLAS -- Oregon State Police is asking for the public's help to identify a vehicle and driver believed to be a factor in a serious injury motorcycle crash Wednesday evening, Aug. 3, on Highway 223 north of Dallas.
A silver-colored sport utility vehicle failed to stop at the scene after turning onto Fir Villa Road and left in an unknown direction.
According to OSP Sgt. Craig Ball, on Aug. 3 at about 7:13 p.m. OSP, Polk County Sheriff's Office and Dallas Fire Department responded to a reported traffic crash on Highway 223 near Fir Villa Road.
Preliminary investigation indicates a motorcycle operated by Richard D. Christopher, 58, of Vancouver, Wash., was northbound on Highway 223 and crashed trying to avoid an unidentified eastbound silver-colored sport utility vehicle that turned in front of the motorcycle onto Fir Villa Road. The sport utility vehicle did not collide with the motorcycle but was a factor in the crash and left the area in an unknown direction.
Christopher was seriously injured and transported by ambulance to Salem Hospital.
Anyone with information regarding the sport utility vehicle is asked to call OSP Northern Command Center dispatch at 1-800-452-7888.
OSP troopers from the Salem Area Command office are continuing the investigation. Polk County Sheriff's Office, Dallas Fire Department and ODOT assisted at the scene.