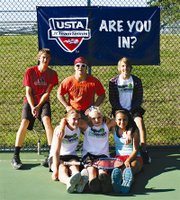 ♦
The 13th Annual TLC Food Bank Golf Tournament will be played Sept. 10 at Cross Creek Golf Course
. The entry fee for the four-player scramble is $60 per player. Play begins at 8 a.m. Proceeds benefit the Dallas Food Bank. For more information: TLC, 503-623-2333; David McGuffey, 503-623-3927.
♦
Carmen McClintock of Dallas placed in five events July 9-10 in the Oregon State Games Track & Field Championships at Mt. Hood Community College
. McClintock earned gold medals in the women's senior division in shot put, javelin, discus, 50 and 100-meter runs. McClintock then joined more than 10,000 athletes Aug. 4-7 in the U.S. Games of America in San Diego. She captured bronze medals in the discus and 100.
♦
The Second Annual Dallas Community Tennis Tournament will be played Sept. 30-Oct. 2
. Matches will be played at the high school and at the Dallas Aquatic Center. The tourney is a fund raiser for the DHS tennis program. The entry fee is $15 for singles and $10 (per player) for doubles. The entry deadline is Sept. 28. There will be no day-of-match registration. For more information or entry forms: Dallas boys coach Erich Berg, 503-313-4860.
♦
The Salem Football Officials Association is looking for officials for the 2011 season
. The SFOA provides officials for high school games in the mid-Willamette Valley. Training is provided. Weekly meetings begin in August. For more information, SFOA commissioner Ken Woods, commissioner@salemfbrefs.org, 503-623-8143, 504-871-0056.
♦
Registration is under way for Central Youth Sports football
. Registration is held Wednesdays from 6 p.m.-8 p.m. in the Talmadge Middle School cafeteria. Registration also will be held at 6:30 p.m. Aug. 17-18 at Central Football Camp. Grades 2-4 play flag football, and the cost is $60. Grades 4-6 play tackle football, and the cost is $100. For more information: CYS, 503-838-4013.
♦
The Monmouth-Independence Chamber of Commerce Golf Tournament will be played Saturday, Aug. 27 at Cross Creek Golf Course
. Registration begins at 7 a.m. Play in the four-man scramble begins with an 8 a.m. shotgun start. The entry fee is $75 per player. For more information or a registration form: www.micc-or.org, 503-838-4268.
♦
Season tickets for the Western Oregon 2011 football season are on sale
. The Wolves have four home games in 2011, and season-ticket packages start at $55 or $45 for WOU faculty or staff. For more information: Michael Feuling, 503-838-8449, feulingm@wou.edu.
♦
Central Youth Sports is located at Talmadge Middle School in Independence.
CYS office hours are Wednesdays from 6 p.m-8 p.m. The CYS phone number is 503-838-4013. The CYS website is www.centralyouthsports.com.
♦
Dallas
Kids, Inc.
is located at 187 SW Court St
. The Kids Inc. phone number is 503-623-6419. The Kids, Inc. website is dallaskidsinc.org and the e-mail address is office@dallaskidsinc.org.
♦
For additions to the Sports Briefs section: Sam Scott at 503-623-2373 or by e-mail at sscott@polkio.com
.