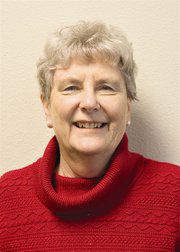 Junior (Arthur) and Pat Lyday celebrated their 64th anniversary on Aug. 20 at Terri (Lyday) and Norm Arnold's home in Kings Valley, with 45 friends and relatives attending.
The Lyday's daughter, Vicki Lyday Wood, and niece, Terri, hosted the event. Diana Barnhart baked delicious carrot, red velvet and chocolate cakes to serve with the "official" congratulatory cake, along with coffee, sun tea and punch.
One friend who attended was Ruth Graham Kramer, who used to live in Kings Valley and was at Junior and Pat's "shivaree" on Aug. 20, 1947, and baby-sat Vicki when she was a toddler. She now lives in Jefferson.
A lot of old-time memories were shared.
--
Earl and Barbara Gage thank all members of Pedee Memorial Church who were involved in cutting and delivering the two big loads of firewood on Saturday, Aug. 20. Special thanks to Nick Johnson, Daniel Russell, Rod Baldwin, Tim Barnhart, and Mike and David Crowe for their personal efforts. It was very much appreciated. When they stay warm this winter they will think of all of those helpers. Their grandsons, Levi and Dawntae Bault, will also probably remember the opportunity it gave them to stack all that wood in grandpa's woodshed.
--
Daniel and Heidi Russell are happy to announce that their daughter, Aliyah Esther, was born on Monday morning, Aug. 22, at home. She is absolutely perfect and doing great. They truly appreciated your prayers, and say it has been fun to see the evidence of God's hand in her delivery and its timing. Everything went very well and Heidi recovered amazingly well, especially since the process resulted in two nights of little sleep. They welcome visitors and would love to introduce everyone to Aliyah.
--
Glenn Mott, 12-year-old son of Glenn Mott and Poppy Mitchell, has been doing his share of fishing this summer. He and his mother went back to Moonshine Park on the Siletz River for a week of steelhead fishing with friends two weeks ago, and this last week he went to Lincoln City with friends to fish for salmon and steelhead.
--
Sam and Judy Guida and Bob and Lynda Schnekenburger just returned from an Alaskan cruise on the Holland America Line with former Pedee resident Sharon Ketchum, who now lives in Colville, Wash. They were joined by Sharon's mother, Anna Ofendal from Minnesota. The weather was perfect except for the day they biked nine cold and rainy miles to Mendenhall Glacier from Juneau. They did see a black bear near the glacier, which got their heart rates up but it hardly stuck around long enough to get a decent photo.