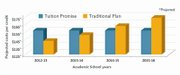 MONMOUTH -- Western Oregon University will allow incoming students next year to opt out of the school's no rate-increase tuition program, which has been in effect since 2007.
The university will allow students to choose a traditional plan -- the "Tuition Choice" -- that would see a 1 percent or smaller rate increase for 2012, then subsequent annual increases between 5 and 10 percent.
The move came about primarily to reduce financial challenges that have arisen because of the school's current tuition structure, "The Western Promise."
That entails students paying the same tuition rate of their first year at the school through graduation, though they must pay a higher upfront cost because of that guarantee.
"We're being pushed into a fiscal corner with the way our tuition is now," said David McDonald, WOU associate provost. "Our students are happy with the system, but it does limit our ability to increase revenue to compensate for drops in state revenue.
"Adding a choice allows families the flexibility to select a tuition plan that meets their current and future needs."
The two options will be offered to incoming students in 2012-13 -- a study period for officials to come up with a long-term approach regarding tuition structure, said Western Interim President Mark Weiss.
WOU leaders have been studying for several months the feasibility of continuing The Promise: The latter has been popular with students and lawmakers, but has caused budget instability, Weiss said.
Weiss said the four-year guarantee was premised in 2007 on annual steady funding from the state. Oregon general fund allocations for WOU have dropped from $20 million to a projected $12.5 million for 2012-13.
"We had calculated that a decrease of 15 percent of state funding with this adopted plan would cause us to need to increase our tuition rates by more than 30 percent," Weiss said.
Other schools, meanwhile, have raised tuition by 6 to 9 percent for all students; Western increased tuition for only its incoming class by 5 percent.
"We don't get the economic impact other schools do, and that's our challenge," Weiss
said.
A result is Western now has -- because of the upfront rate -- the highest freshman tuition in the state after the University of Oregon.
"That isn't where we want to be," Weiss said. "For our students, we're concerned this would price us out of the market."
The 2012 WOU tuition under The Promise will likely be 7 to 10 percent higher than the 2011 tuition, according to WOU data.
Western saw a decline -- albeit slight -- for the first time in seven years in enrollment this fall.