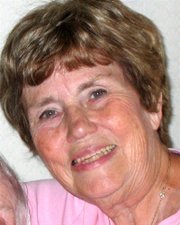 These recent days and nights have been filled with freezing fog and an occasional burst of sunshine to brighten our surroundings.
Children are counting the days until Christmas -- especially after seeing Santa in the parades and the very special visit on the train, thanks to the Independence Elks and the city of Independence.
Last week's Itemizer-Observer gave us an extra bonus with the Winter Sports Guide so we can be sure to keep up with our local high school athletes' busy schedules and upcoming events. No better way to chase away winter's gloom than to go to a basketball game, wrestling match or swim meet and cheer for our local students.
--
Some people are so organized -- their shopping was done weeks ago. Christmas cards were neatly stacked on the corner of the desk, ready to be mailed Thanksgiving weekend; others are waiting for payday before they can begin; and most of us fall somewhere in between.
At our house, the dining room resembled a third-world sewing factory for weeks. The cat has even more soft places to nap. Somehow it will all come together just in time.
--
This may be the first year your children are home from college. They'll be eager to share stories about classes and university life and their newly found independence -- or they may not. They may also want some quiet time to relax, see neighborhood friends and catch up on some much-needed sleep.
--
In MI Town, there's time to relax with friends and enjoy time with family without turning it into a major production. We can make a big bowl of punch and have fun with the kids stringing popcorn and cranberries for the Christmas tree. We can bake cookies and make candy and share it with our friends and neighbors, and brighten somebody else's day with a smile or a special compliment. If there isn't time for baking and cooking, along with everything else, our local stores have goodies available for every taste and budget.
--
Haugen's Photography hosted a Women's Night Out, which featured local businesses, as well a national organization named Now I Lay Me Down To Sleep, where photographers volunteer their services to parents whose children have passed away at birth or shortly thereafter.
My daughter, Beverly, a pediatric critical care nurse in Florida, also told me of this very worthy group, and how it has helped grieving parents.
For more information or if you have any questions, see their website at www.nowilaymedowntosleep.com.
--
Don't forget the Monmouth-Independence Chamber of Commerce open house next Wednesday, Dec. 21, from 10 a.m. until 3 p.m. at their new location at 311 Monmouth Ave. in Independence.