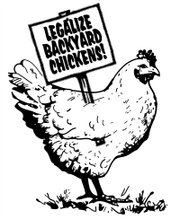 MONMOUTH/INDEPENDENCE -- Backyard hens will be on the agendas of city leaders in Monmouth and Independence this and next month.
Proponents for keeping the poultry as pets within city limits were scheduled to speak at an Independence City Council meeting after press time on Tuesday.
Monmouth City Council, meanwhile, agreed to formally discuss the topic during a work session sometime in January.
This comes after members of the Monmouth-Independence Chicken Revolution delivered nearly 70 signatures to Monmouth officials in support of urban chickens and a 42-page packet addressing benefits and common concerns regarding the movement on Dec. 6.
"I'm hoping we've pre-empted a lot of questions, alleviated a lot of fears and come up with something that they'll see as common sense to going forward and implementing it," said Malinda Bermudez, a group member.
The group has asked both cities to consider a proposal that allows residents to have as many as five hens in backyards or sideyards.
Other provisions include that birds and coops couldn't be visible from city streets and that there would be no commercial selling of eggs. Roosters would remain illegal.
Most cities surrounding Monmouth and Independence, including Dallas, Salem and Corvallis, allow hens in backyards.
The "revolution" began lobbying for a rule change in earnest this summer, said Domenica Protheroe, a proponent. That includes networking via social media, holding an open forum in September and guidance from Salem's nationally-known Chickens in the Yard movement. The group also touted general support of backyard hens by the Marion-Polk Food Share and Oregon Tilth.
Independence flirted with the question of chickens in residential zones in 2010. It dropped the issue after a majority -- albeit slight -- of respondents to a survey said they didn't want the city to allow the birds.
"My understanding is that the proposal is different this time around," said Independence City Manager David Clyne. "And I think it's more prevalent in the area; there are more communities finding ways to allow chickens in an urban environment.
"Whether that will reach Independence or Monmouth, I couldn't say."
Several people showed up for Monmouth's council meeting last week in support of allowing poultry. Resident Jeff Kershner said he suffers from Crohn's disease and that having egg-laying birds would make it easier for him to have access to high-nutrient foods.
"I would like to have chickens because I want to show them in 4-H," added his daughter, Heidi, 7.