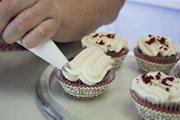 DALLAS -- Bittersweet Surrender Cupcake Cafe.
The name itself sounds delicious.
Tamera Niessen-Byers and Patti Schreiner, owners of the newly opened bakery and cafe, hope that you will savor more than just the name of their shop located at the corner of Main and Washington streets near downtown Dallas.
Photo by Pete Strong
Tamera Niessen-Byers ices the last of a batch of red velvet cupcakes on a recent morning.
The more-than-tempting aroma that emanates each morning from the bakery may be enough to entice people to stop by the first time. But the pair have developed a solid strategy to bring people back: The bakery won't feature its whole menu each day, but will rotate varieties. Each day, eight new flavors will be offered.
"We want to be able to have (customers) have the ability to choose and come back and not have the same thing there everyday," Schreiner said.
And choices they will have.
Bittersweet's 151 cupcake recipes feature traditional cupcake flavors, such as chocolate, vanilla and red velvet. But intriguing macadamia nut, banana, pumpkin nut, carrot cake and even a sweet rhubarb-ginger flavor grace the menu. Frostings often are flavored buttercreams or cream cheese based, but peanut butter, ganache, caramel and peaches with brown butter bourbon sauce can tempt the adventurous.
Schreiner noted that Bittersweet's creations aren't your typical cupcake.
"They're all from scratch and they're all our own recipes," she said.
Cupcake master Niessen-Byers begins the baking at 5 a.m., finishing around 10 a.m. when the bakery opens.
She continues to bake throughout the day, doing her mixing and frosting on a counter so customers can watch the process.
"People like to watch you bake," she said. "They like to see you working and know that it's fresh."
The bakery tries to find ingredients from local sources, and doesn't cheat on quality, Niessen-Byers said.
"Although it costs more, people can taste the difference," Niessen-Byers said.
In addition to the fully indulgent varieties, Niessen-Byers has perfected low sugar, lower calorie, gluten-free and vegan recipes, which will be sold in local health food stores. Bittersweet also specializes in other baked goods, such as scones, pies, cookies, pumpkin rolls, and bite-sized cake "pops" on a stick.
The pair's partnership in cupcakes was the result of both women feeling the need for change in their lives.
Niessen-Byers had owned a cafe in Santa Barbara, Calif., was a personal chef for a time, and most recently was the kitchen manager at Dallas Retirement Village for six years.
"I wanted to do something different with my life," she said. "So in February I decided to make as many cupcakes as possible and give them to everybody. I had so much fun that I wanted to make it a business. I went looking for a restaurant that would rent its kitchen to me one day a week so I could bake."
Schreiner, who handles the cafe's finances, brought a far different background to the cafe
Photo by Pete Strong
Co-owners Niessen-Byers (pictured) and Schreiner take pride in their products being completely scratch-made and fresh daily.
.
She had worked with horses for years as a breeder and trainer, in addition to running a boarding facility and offering lessons in Western and English-style riding. Schreiner was forced to change careers after a serious fall. Always interested in computer software design, she went back to school but found after earning her degree that she didn't want to pursue a career in the field.
"What I really wanted to do was start my own business," she said. "I wanted to do something on my own with no clocking in and clocking out."
During Niessen-Byers' search for a place to bake she caught up with Schreiner, who she had been friends with for several years. She shared her idea for running a bakery.
"I kind of talked her into it and it morphed into starting a business together," she said.
"When Tamera and I started talking, it was a perfect opportunity for me to invest," Schreiner added.
The idea grew, eventually becoming a cafe which would serve lunch, and naturally, dessert.
"I thought if we are going to do that and are renting the space, why not turn it into a bakery?" Schreiner recalled. "Then it went from that to why not open it to the public."
With a limited budget, they began with dessert first. Coming soon will be a lunch menu featuring sandwiches with meats prepared in-house, salads and quiche -- varieties of which will rotate daily. In a preview of what's to come, the cafe already carries a homemade soup of the day served from 11 a.m. to 2 p.m. Next summer an outdoor seating section will be added.
The pair said loyal customers and other local businesses have provided encouragement for the specialized bakery. Schreiner said Bittersweet's goal is to complement what is already available in Dallas.
"We are not trying to pull away from other restaurants," she said. "We are trying to add."
The cupcake-centered bakery is a first in Dallas, but the single-serving treat has been pulled into the spotlight in recent years thanks to bakeries such as Bittersweet offering creative recipes.
Photo by Pete Strong
Niessen-Byers and Schreiner said the resurgence in popularity of cupcakes and the inevitable slate of reality TV shows weren't their inspiration, however.
"I never really started looking at the shows until after we had already gotten into this," Schreiner said.
"They're just fun," Niessen-Byers chimed in. "They are individual little cupcakes that you can change and do a lot of creative stuff to."
They are also perfect for a small indulgence.
"In today's economy, instead of going out and buying a pair of shoes, you can treat yourself to a cupcake," Schreiner said. "It gives you gratification, but it's just enough for one serving."
Need a Treat?
What:
Bittersweet Surrender Cupcake Cafe.
Where:
125 SW Washington St., Dallas (at the corner of Main and Washington streets).
Hours:
10 a.m. to 4 p.m. Monday through Saturday.
Of note:
The bakery offers gourmet cupcakes in 151 varieties, as well as coffee, tea, milk, soda and a soup-of-the-day served from 11 a.m to 2 p.m. Other baked goods, such as pumpkin rolls, pies, scones and brownies are available. Coming soon will be an expanded lunch menu with salads and panini sandwiches that will change daily.
For more information:
503-751-1348.