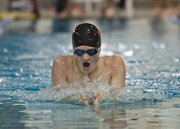 DALLAS -- Junior Jerusha Dressel broke two Dallas swimming records as the Dallas swim team competed in its first two meets of the season last week.
Dressel swam a new record of 2 minutes, 22.47 seconds in the 200-yard individual medley in Dallas' first meet against Woodburn on Tuesday, Dec. 6. She followed that performance by breaking another record in the 50-yard freestyle in the team's double dual against McKay and North Salem on Thursday, Dec. 8.
Dallas coach Jeff Bemrose said this is Dressel's first season swimming for the Dragons, but she's no newcomer to the sport.
"She's been club swimming for years," he said. "We didn't have to work with her too much. We just put her in the water."
The girls team posted overwhelming victories in all of its meets last week. Dallas defeated Woodburn 136-13 in a Mid-Willamette Conference dual. In Thursday's three-way meet, Dallas defeated McKay 116-26 and North Salem 100-60.
Bemrose said another record may be in danger as the girls 200-yard medley team came within about a half a second of the school's all-time best.
"Once they know it's possible, they will get it," Bemrose said. "We will focus on turns and have them not breathe so often, just break down the resistance."
The boys team defeated Woodburn 95-31 in a solid performance for the improving squad.
"It was fun for some of those kids to (win)," Bemrose said.
In Thursday's meet, Dallas lost, but just barely, to McKay 87-80 and North Salem 83-77.
"It was relatively close all the way through," Bemrose said. "I wasn't too disappointed. It was a good performance from the boys in that meet."
Bemrose is expecting improvement on the boys team as more swimmers come out.
"We still have a few boys who are starting this week," Bemrose said.