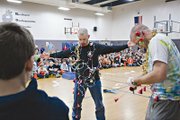 Duo is performing
at Crush Wine Bar
The Trindade-Hughes Duo is performing jazz and latin-influenced music at Crush Wine Bar in Monmouth as part of a regular Friday evening series of appearances. The next show is Friday, Dec. 23, at 7 p.m.
Bass player and composer Wagner Trindade came to the United States from Brazil in 2009, where he completed a Masters of Music program at Western Oregon University. He has performed internationally with his own trio, Dialeto Brasileiro, and with a number of renowned artists.
Guitarist Bill Hughes, a respected musician on the Salem music scene and beyond, plays solo and with groups 250 nights a year.
Crush Wine Bar is located at 105 E. Main St. in Monmouth. There is no cover charge.
For more information: 503-838-0399; www.crushonmain.com.
Christmas dinner
planned by church
St. Philip Catholic Church's 20th annual free Christmas Day Community Dinner will be served from noon to 2 p.m. Sunday, Dec. 25, at 825 SW Mill St., Dallas.
The meal is offered to provide hospitality for those in the community who might have to spend the day alone, as well as for those who are financially unable to celebrate with a Christmas meal. All ages are welcome, and a gift is available for children attending the dinner.
Delivery of carry-out dinners for shut-ins and transportation is available by calling the church office at 503-623-2440.
For more information: Father Michael Johnston, 503-623-2440.
Help needed with
Dallas bird count
The Salem Audubon Society will conduct a Christmas Bird Count in the Dallas area on Tuesday, Dec. 28.
Salem Audubon Society is seeking birders -- and would-be birders -- to participate by volunteering to assist with the count.
Participants are divided into teams that, on the day of the event, try to count the number of birds of each species within a given radius of the Dallas area. Each team is led by an experienced birder. People who are not able to join a team can take part by counting the birds in their yards and at their feeders.
For more information: Bill Tice, 503-951-4900.
Falls City library
sets puzzle event
Wagner Community Library in Falls City is accepting registration from teams of two people for a jigsaw puzzle competition scheduled Thursday, Dec. 29.
The event, which is open to individuals from kindergarten age through adult, takes place at 10 a.m. There will be different age levels and prizes will be awarded.
Deadline to register is Wednesday, Dec. 28.
For more information: 503-787-3521, ext. 319; or visit the library.
Soccer club offers
early tree recycling
Dallas United Soccer will pick up your Christmas tree anytime beginning Monday, Dec. 26, and continuing until Jan. 8.
Donations will be accepted for the service and will directly benefit players by reducing spring registration and coaching fees.
For more information or to schedule a pickup: Jim Cross, 503-779-4611; or send an e-mail jcross@dallasunitedsoccer.org.
Master Gardener
deadline extended
The deadline to register for OSU Extension Polk County Master Gardener Volunteer Training has been extended to Jan. 4 at 5 p.m.
Classes are held Wednesdays from 9 a.m. to 4 p.m. from Jan. 11 through March 21 at Trinity Lutheran Church, 320 SE Fir Villa Road, Dallas.
Volunteers receive training in all aspects of gardening, including plant and insect identification, orchard management, plant propagation and problem diagnosis. After the training, volunteers contribute 60 hours answering gardening questions from the public and working at various projects.
Registration fee is $100 and includes the Sustainable Gardening Handbook and class supplies. There is a non-volunteer option available for those who cannot contribute volunteer time.
For more information and to receive an application: OSU/Polk County Extension, 503-623-8395; http://extension.oregonstate.edu/polk/polk-county-master-gardener-home-page.