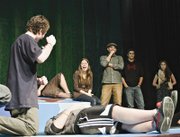 DALLAS -- During a recent class at Dallas High School, a group of students stood in a circle clapping their hands and waving their arms around.
No, it wasn't an elective on learning to be a mime.
It was an English class -- as taught by Oregon Shakespeare Festival actors David Salsa and Mandie Jenson.
The game, a variation on follow the leader, was a warmup for a workshop analyzing a scene in William Shakespeare's "McBeth."
Jenson and Salsa spent four days at DHS leading workshops and giving short performances as part of a three-year partnership between the school and OSF. The goal of the outreach is to make Shakespeare more accessible to students through workshops illustrating his use of language and storytelling devices.
Salsa and Jenson's workshops this year, the second year of the partnership, focused on offstage action and what it reveals about the story.
The text of "McBeth" may not be the literature of choice for a typical high school sophomore at 8:30 in the morning. Given that challenge, Salsa and Jenson had to find a way to engage the class.
So the pair took the students out of the normal classroom environment and put them into Shakespeare's world -- the stage. There were no desks, no books and not a lot of reading with the exception of an exchange between McBeth and Lady McBeth in Act 2 of the play.
"This is not your typical English class," Salsa told the students.
The scene is a pivotal element of the story -- the killing of King Duncan. Shakespeare wrote the scene so that the actual killing was off stage and the audience only sees what happens immediately before and after.
Salsa explained that Shakespeare was trying to make his audience draw its own conclusions about how the murder happened. Jenson and Salsa's goal was to help the students realize that sometimes leaving something to the imagination makes the story more compelling.
Photo by Pete Strong
Dallas High sophomore Jackson Taylor tries to guess which classmate is controlling a warmup activity.
"It's much more interesting because of the frantic state McBeth is in," Salsa explained. "If you saw the scene happen, that would take your imagination out of it. He really goes crazy after this."
By the end of the hourlong workshop, students had not only analyzed how they believed the murder happened, they had created three "scenes" from the offstage action based on how they interpreted McBeth and Lady McBeth's reactions.
Jade Beattie, a junior, who has acted in a number of Dallas High drama productions, said the workshops revealed an aspect of acting she hadn't thought of before.
"I never paid attention to offstage action," she said. "That was always left to the director (to interpret), but now I know that I can (do that) myself and don't have to depend on someone else."
Jenson said the workshops give students a chance to take risks and be silly without feeling embarrassed.
"Trying to get them past the self judgment, it can be a really big challenge," she said.
For Jenson and Salsa, the best part of the outreach is seeing students identify with Shakespeare's stories and feel comfortable expressing their ideas.
"I love that moment when it starts to make sense and they've figured it out for themselves," Salsa said.
"They will say `This story is cooler than I thought,'" Jenson added. "Anytime a student realizes that Shakespeare is still relevant is great."
Jeff Baer, a DHS language arts teacher, believes the exercises in the workshops -- some of which he will incorporate into his classes -- give students a chance to look at material in a new way.
"The students can be more interpretive, rather than having a teacher force an interpretation on them," he said, adding the students are more engaged under that circumstance.
"It's about kids getting up and taking a risk and having fun," he said.