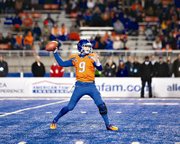 BOISE, Idaho -- When Grant Hedrick broke free for a 23-yard touchdown run to cap a big win for the Boise State football team back in October, he probably let out a small sigh of relief.
"It was good -- it's been awhile," the former Central High School star quarterback said with a laugh about the 57-7 win over Fresno State on Oct. 7.
"(It's been) since high school ... It was a good feeling to get back in the end zone. Hopefully, it won't be the last time. It was definitely a good feeling."
Hedrick, a redshirt freshman backup quarterback for the Mountain West champion Broncos, traveled with No. 7-ranked Boise State (11-1) Saturday to Las Vegas, where Boise State will face the Pac-12's Arizona State (6-6) in the MAACO Bowl Las Vegas at 5 p.m. Thursday.
After spending most of his time on the scout team in his first year as a redshirt, Hedrick has had his share of playing time for the Broncos, appearing in seven games with a 119.9 passing efficiency (2-for-3 passing for 19 yards).
The 2009 Oregon Class 4A Player of the Year has done his most damage on the ground, rushing for 70 total net yards on 8 attempts for 8.8 yards per carry.
Hedrick splits time with fellow backup Joe Southwick while learning from senior starter Kellen Moore, the NCAA's all-time record holder for career wins (49). Hedrick said overall, his second season has been an important one in which to grow.
"I think it's just been another big learning experience for me, actually," he said.
"Seeing some time mainly running the ball has just been huge, getting that game experience and just having Kellen for another year, just to learn from him has just been an unreal experience."
While the Broncos hope to end the season on another high note despite missing out on a BCS bowl for the second straight season (Boise State defeated Utah 26-3 in last year's MAACO Bowl), Hedrick is excited about the ensuing quarterback battle to take place in the spring to name Moore's replacement.
Grant Hedrick
I think it's going to be a big battle - it's going to start in this spring off-season, and it's going to be a battle," Hedrick said of the competition with Southwick, who has played in eight games and passed for 198 yards this season.
"We're both competitive guys and the job's wide open, so it's going to be fun to see how it plays out."
While Hedrick might bring more versatility with his feet, he said learning more patience in the pocket is just one area of his game he needs to improve.
For now, the exercise science major said his experience at Boise State has been what he'd hoped for.
"I love it - it's still a dream come true," he said."The coaches are great, the atmosphere around here is awesome and it's definitely everything I wanted it to be."
MAACO Bowl Las Vegas
Who: No. 7 Boise State (11-1) vs. Arizona State (6-6)
When: 5 p.m. Thursday
Where: UNLV's Sam Boyd Stadium
TV: ESPN